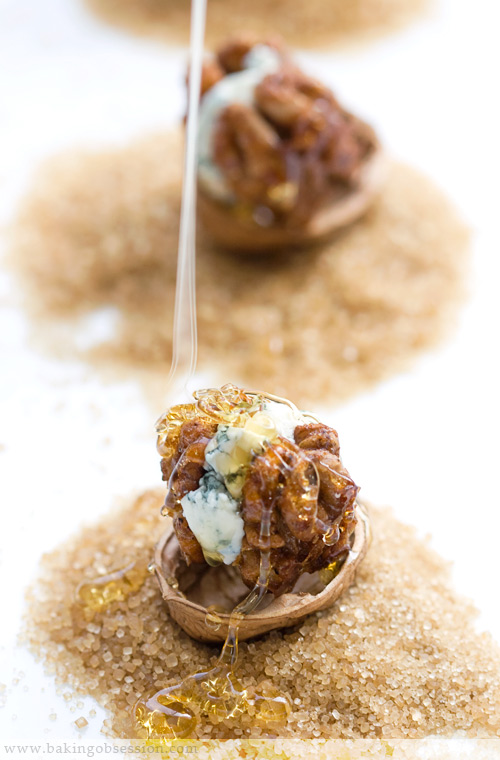 We've given up the russian tradition to celebrate New Year with a full-course dinner starting at midnight. Now our fancy dinner begins at a more appropriate hour, somewhere around 7PM, and later I serve little bites and nibbles. I thought to share some of these recipes with you.
These "flavor bombs" ideas are Bob Blumer's. I tweaked the first recipe though, by caramelizing nuts with honey and spices, and used Stilton instead of Gorgonzola (I just have a very special relationship with Stilton, it's called love). But, really, any blue cheese would work here.
I wish everyone the Happiest New Year!!!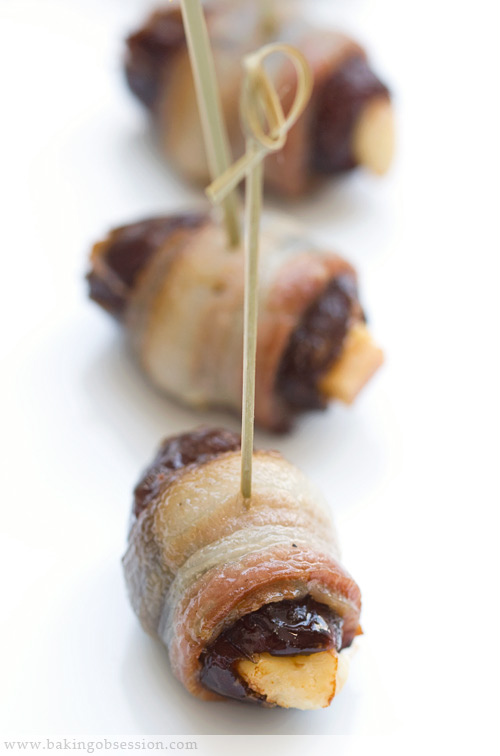 Makes 12 each
For the walnut "brains":
The recipe for caramelized nuts makes way more than you'll need for sandwiches but they are fantastic on their own.
12 walnut shell halves (for presentation)
Demerara sugar (for presentation)
2 cups walnut halves
½ tsp ground cinnamon
½ tsp ground ginger
¼ tsp ground cardamom
¼ tsp freshly ground pepper
¼ tsp cayenne
¼ tsp salt
¼ cup honey
¼ cup corn syrup
6 oz Stilton or Gorgonzola, or your favourite blue cheese, at room temperature
About 3 tbsp liquid honey for drizzling
For the stuffed dates:
12 large Medjool dates
4 oz chunk Parmigiano-Reggiano cheese
6 slices bacon, cut in half widthwise
Make the walnut "brains":
Center the oven rack and preheat the oven to 350F. Line a baking sheet with a silicone mat or parchment paper, if using the parchment, spray it with oil.
In a medium bowl, combine the nuts, spices, and salt. In a small saucepan over medium-low heat, or in a MW-safe bowl in the MW, heat the honey and corn syrup until warm and fluid. Pour over the nut-spice mixture and mix well to coat. Transfer to the prepared baking sheet and spread the nuts to a single layer. Bake for 15 to 20 minutes, until the nuts are rich mahogany colour. Cool on the sheet on a rack. Separate the halves and store in an air-tight container untill needed.
To assemble, spread the demerara sugar on a serving plate and set the walnut shells in sugar. Sandwich 1 teaspoon of cheese between 2 caramelized walnut halves. Place mini walnut sandwich upright in a walnut shell. Just before serving, drizzle honey over each walnut brain.
Make the stuffed dates:
Preheat the oven to 350F. Cover a baking sheet with parchment or foil (to minimize clean-up).
Make a small slit in the bottom of each date and remove the pit.
Using the sharpest knife, cut the Parmigiano-Reggiano into 1/4-inch slices. Cut the slices into 1/4-x-1-inch pieces. Insert the cheese stick into each date. Wrap the dates with a slice of bacon. Set the dates on the baking sheet, seam-sides down, and skewer each with a toothpick to hold the bacon in place.
Bake for about 20 minutes, or until the bacon is crispy. Cool for a few minutes before serving. Be careful, they are extremely hot right from the oven.