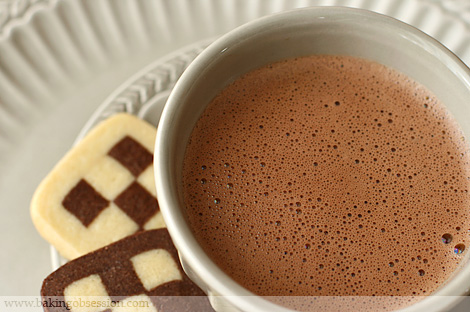 … is comforting and delicious, especially on a rainy, or not-so-rainy, but chilly day. To be honest, I love it without any connection with weather conditions or time of the day. It can be topped with whipped cream but I prefer the hot chocolate as is. Theoretically, there's enough for four (offer it the demitasse cups in this case) but I think there are more like two servings despite the richness of the drink.
I tried different recipes, and for now this one which is from the "Chocolate Holidays" is my favorite.
Makes 4 servings
Ingredients:
2 oz bittersweet or semisweet chocolate, finely chopped
½ cup boiling water
½ cup whole milk
Whipped cream, for serving (optional)
Preparation:
Place the chocolate in a small saucepan. Pour about a half of the boiling water over the chocolate and whisk until the chocolate is melted. Add the rest of the boiling water and the milk. Heat the mixture, whisking constantly, until it is hot but not boiling. For the best flavor and texture, avoid exceeding 180F. Serve immediately or set aside and reheat gently before serving.