I bet everyone has their tried-and-true carrot cake/muffins recipe, but I will still share mine since I believe this recipe is pretty awesome. I put a little bit of banana puree in, not too much to turn them into banana muffins, but just enough to make them extra moist and fragrant. I like using fresh pineapple finely chopped in a processor, but I usually do so to utilize some leftover pineapple, other days canned pineapple does the job.
Because the batter is wet, the tops of the muffins don't dome that high which makes them perfect for piping a generous swirl of cream cheese frosting. You should try my recipe for icing sugar-free honey frosting. Substitute honey (some or all) for maple syrup and add a bit of orange zest to compliment the orange-flavored muffins.
The batter can be also baked as a cake in a deep 9×13 inch pan or divided between three 9 inch round pans and assembled later into a more impressive-looking torte.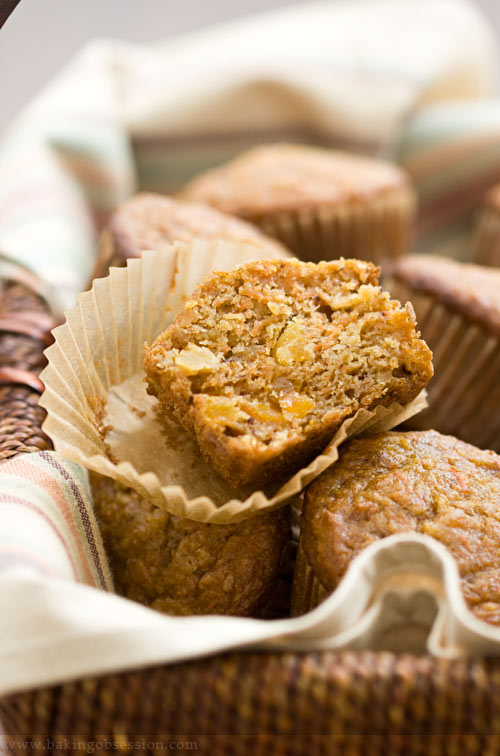 Makes about 28 regular-size muffins
Ingredients:
1 cup all-purpose flour
1 cup whole wheat flour
2 tsp baking soda
½ tsp baking powder
2 tsp ground cinnamon
½ tsp salt
zest of 1 large orange
½ cup white granulated sugar
½ cup packed brown sugar
3 large eggs
½ cup vegetable oil
1 tsp pure vanilla extract
½ cup banana puree (1 medium over-ripe banana, mashed with a fork)
¾ cup buttermilk
2 cups finely shredded carrots (fresh crop organic ones do taste better)
1 cup drained (but not squeezed-dry) canned crushed pineapple (you can put a whole 14-oz can)
1 cup unsweetened shredded coconut
1 cup finely chopped dry apricots
½ cup finely chopped candied orange peel (homemade preferred)
Preparation:
Center the oven rack and preheat the oven to 375F. Spray the muffin molds with oil or line with parchment paper liners.
In a large bowl, whisk to combine the flours, baking soda, baking powder, salt, and spices. Set aside.
In another large mixing bowl, combine the orange zest and white sugar and rub with your fingertips to release fragrant oil from the zest. Add the brown sugar, then whisk in the eggs, followed by the oil, vanilla extract, banana puree, and buttermilk. Pour the mixture over the dry ingredients and mix just until combined. With a wooden spoon or silicone spatula, mix in the carrots, pineapple, coconut, apricots, and candied orange peel.
Divide the batter between the prepared muffin molds. Bake until the muffins are nicely browned and a toothpick inserted into the center comes out clean, for about 20 to 23 minutes. It's OK to bake them in batches, put the first batch in the oven as soon as you filled the molds and continue filling the remaining molds while the first batch is baking.
Unlike most muffins, these stay moist and fresh for several days (provided you are keeping them in an air-tight container), or you can freeze the leftovers (the recipe does make a lot) and defrost them as needed. Without frosting, they are good for school lunches, picnics, and camping.