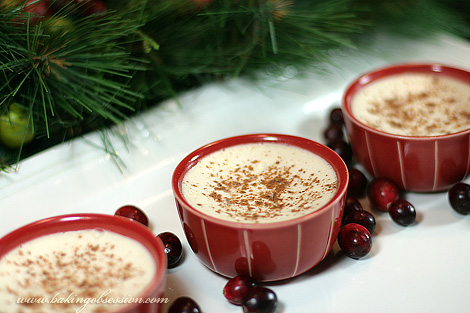 There is another holiday favorite. It can be done up to 24 hours in advance and refrigerated till the serving time.
Makes six 4-oz ramekins
Ingredients:
2/3 cup dried cranberries
¼ cup orange juice
3 large eggs
8 oz mascarpone cheese
8 oz vanilla yogurt ( low-fat variety works but avoid non-fat yogurt )
½ cup sugar
½ tsp vanilla extract
¼ tsp ground nutmeg
About ½ tsp freshly grated nutmeg
Preparation:
Lightly spray the custard cups.
Put the cranberries in a small saucepan, cover with the orange juice. Bring just to a boil over medium heat. Drain the cranberries and pat them dry. If you don't want to waste the juice, drink it up ;) Divide the cranberries among the prepared ramekins, arranging them on the bottom.
Center the oven rack. Preheat the oven to 325 F. In a large bowl, whisk the eggs briefly add the mascarpone, yogurt, sugar, vanilla, and cinnamon and whisk until smooth.
Place the ramekins in a large baking pan lined with a dish towel. Pour the mixture into the prepared cups, and sprinkle lightly with the grated nutmeg. Place the pan on the oven rack and carefully pour enough hot water into the pan to come halfway up the sides of the cups.
Bake, uncovered, for 25-30 minutes, or until a knife inserted close to the edge comes out clean. Remove the cups from the pan. I found it's easier to remove the ramekins from the hot water with salad tongs. Cool completely and serve at room temperature or cover with plastic wrap and refrigerate up to 24 hours.