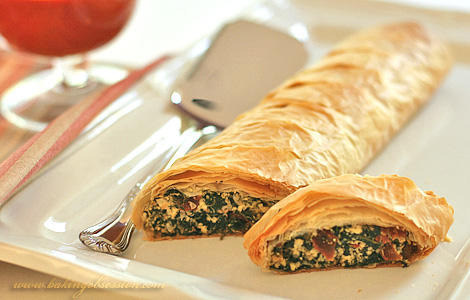 Even the most eager carnivores need a break once in a while. This is one of my favorite vegetarian dishes. It's tasty, healthy, full of protein. If you have preconceived opinion regarding tofu (which I think you should not), I can reassure it's not going to be noticeable since the cheeses play the dominant role here. And nobody whom I served this strudel could not recognize the tofu presence. It makes two large strudels, but I usually freeze one for later – I like to stock my freezer for emergencies.
Makes 2
For the strudels:
20 oz fresh (or defrosted frozen) spinach
2 tablespoon olive oil
2 medium onions, chopped fine
4 large garlic cloves, minced
14 ounces firm tofu, drained, cut into 1/2-inch pieces
8

ounces feta cheese, coarsely crumbled
1 cup grated Asiago cheese
¼ cup chopped fresh dill (or 2 tbsp dry)
1 tbsp all purpose flour
2 large eggs
12 oil-packed sun-dried tomato halves, patted dry, chopped
Juice of ½ lemon
½ cup pine nuts lightly toasted
Extra virgin olive oil (about 1/3 cup)
12 frozen phyllo pastry sheets, thawed
For the sauce:
1 cup jarred roasted red peppers, drained (Of course, you can use home made roasted peppers. But you might need to add a bit more balsamic to get the right acidity)
2/3 cup vegetable stock
1 tbsp balsamic vinegar
2 drained sun-dried tomatoes
Make the strudels:
Cook the spinach (or other greens of your choice) in a large pot of boiling salted water until tender, about 3 minutes. Drain. Cool; squeeze dry. If using the previously frozen spinach, just squeeze it. Set aside.
Heat the oil in a heavy large skillet over medium heat. Add the onion and garlic and sauté until tender, about 7 minutes. Cool.
Finely chop the tofu, cheeses, dill and flour in processor. Add the eggs, pulse until incorporated. Transfer to bowl. Stir in the onion mixture, spinach, and sun-dried tomatoes. Add the lemon juice and pine nuts if using. Season generously with pepper. Add salt if needed. The filling can be made a day ahead and kept refrigerated.
Preheat the oven to 350°F. Line a large baking sheet with parchment paper. Set aside. Stack 2 phyllo sheets, one atop the other, on a work surface; brush the phyllo with oil. Top with 2 more phyllo sheets. Brush with more oil. Repeat with the remaining 2 phyllo sheets. Spread half of the tofu mixture lengthwise down the center of the phyllo in a 3-inch-wide strip, leaving about 1 1/2-inch border on each short side. Fold the short sides of the phyllo in over the filling, then roll up into a log, enclosing the filling completely. Brush the phyllo log with oil. Transfer the strudels to prepared baking sheet. Repeat with the rest of the phyllo to form another strudel. Can be made a couple hours before baking; cover with plastic and refrigerate until ready to bake. The strudels can be frozen up to a month, wrapped well in plastic. Bake without defrosting, just increase the baking time.
When ready to bake, score the tops of the strudels (not the whole way through). Bake the strudels until golden brown, about 55 minutes-1 hour. (Can be made 2 hours ahead. Let stand at room temperature. Rewarm in 350°F oven until heated through, about 15 minutes.) Cool 10 minutes. Cut the strudels crosswise. Serve the Red Pepper Sauce alongside. If you happen to have some leftovers you can return their crispiness by reheating in the 350 F oven for about 15 minutes.
Make the sauce:
Process everything in a food processor until smooth. Can be made a day ahead and kept refrigerated, covered.