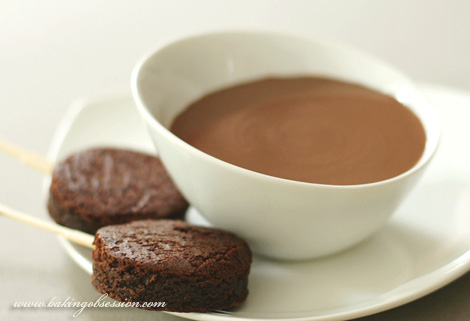 I used this sauce for dipping the brownie lollipops (the recipe follows). The recipe is from the famous Dorie Greenspan's "Baking". Although the flavor was nice and clean, I wish the sauce would be a bit thicker for this particular-dipping purpose. May be an addition of an extra ounce of chocolate could bring the consistency to what I wanted. Next time I try it I'll post my notes.
Makes about ¾ cup
Ingredients:
2 tbsp (packed) light brown sugar

1/8 tsp salt

2 tbsp light corn syrup

¾ cup whole milk

4 oz premium-quality milk chocolate, finely chopped

1 tbsp unsalted butter, at room temperature

½ tsp pure vanilla extract
Preparation:
Stir the sugar, salt and corn syrup together in a medium heavy-bottomed saucepan. Pour in the milk and stir to blend. Put the pan over medium heat and bring the mixture to a boil, stirring frequently. Turn the heat to medium-low and cook, still stirring, for 3 minutes.
Remove the pan from the heat, add the chocolate and stir until it is melted and the sauce is smooth. Stir in the butter and vanilla.
Pour the sauce into a clean jar. Cool to room temperature, then cover and refrigerate until needed.
Can be kept for a week in the refrigerator.