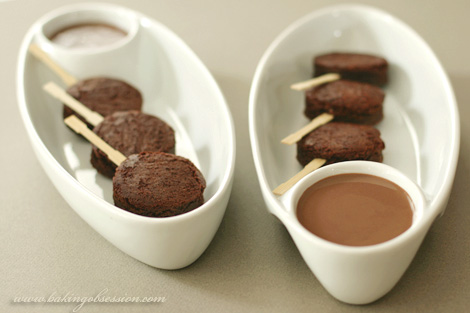 This is a neat solution for kids parties. Wooden sticks as handles eliminate sticky fingers and minimize the mess. But watch for the double dippers!
The brownie recipe is from Nick Malgieri's "Chocolate". The brownies are good, very fudgy, of course.
Makes 15 2-inch round brownies
Ingredients:
16 tbsp (2 sticks) unsalted butter

8 oz bittersweet chocolate, finely chopped

4 large eggs

½ tsp salt

1 cup granulated sugar

1 cup firmly packed dark brown sugar

2 tsp pure vanilla extract

1 cup all-purpose flour

Your favorite caramel sauce and/or milk chocolate sauce for serving
Preparation:
Center an oven rack and preheat the oven to 350 F. Line a 13×9-inch pan with parchment paper, lightly butter the paper.
Bring 1 inch of water to a simmer in a wide skillet. Turn the burner off (if your stove is electric, remove the skillet from the burner). Combine the butter and chocolate in a heatproof bowl and set the bowl in the hot water. Stir constantly until melted and smooth.
In a large bowl, whisk the eggs together, then whisk in the salt, sugars, and vanilla. Stir in the chocolate and butter mixture, then fold in the flour.
Pour the batter into the prepared pan and spread evenly. Bake for about 40-45 minutes, until the top forms a shiny crust and the batter is moderately firm. Cool in the pan on a rack.
Using 2 ¼-inch round biscuit cutter (or use any other size if you wish), cut out 15 rounds from the brownie slab. You can wrap them individually and store at room temperature for up to 3 days. But feel free to eat the trimmings right away. Before serving, insert the lollipop sticks or skewers into each brownie. Serve with the sweet dipping sauces.