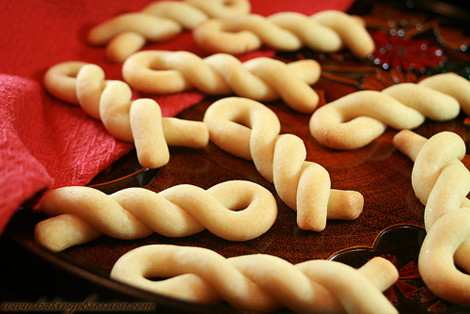 These cookies can be a great project to do with your kids. My son loves making wiggling worms from the dough. I help him a bit with the twists.
Ingredients:
1 cup (2 sticks) unsalted butter, softened
1 cup sugar
2 tsp pure vanilla extract
2 large egg white
1 tsp Kosher salt
3 ¼ cups all-purpose flour
Preparation:
Center an oven rack and preheat the oven to 350 F. Line two baking sheets with parchment paper or silicone mats.
Put the butter in a large mixing bowl and beat with an electric beaters until smooth. Gradually add the sugar and beat on medium speed until light and fluffy. Mix in the vanilla and egg whites. Reduce the speed to low. Add salt and flour; mix until combined.
Roll the dough into ¾-inch balls. It's a nice idea to premeasure the dough using a small ice cream scoop, this way all cookies are going to be the same size. Roll each ball into a 6-inch rope. Bend the rope in half. Then twist twice. Space the cookies 1 inch apart on the baking sheet.
Bake, one sheet at a time, until the cookies just start turning golden, about 15 minutes. Cool on the baking sheet on a cooling rack.
The cookies can be stored up to 3 days in an air-tight container at room temperature.