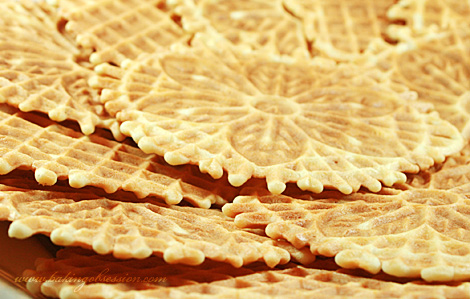 These are classic Italian wafers. They are good as is, or shaped into cones or cylinders and filled with a filling of your choice. The pizzelle can be draped over bottom of a glass and used as edible bowls for ice-cream or mousses.
Ingredients:
1 ¾ cup all-purpose flour
1/8 tsp salt
2 tsp baking powder
3 large eggs
1 large egg yolk
¾ cup sugar
1 tsp pure vanilla extract
8 tbsp (1 stick) unsalted butter, melted
Preparation:
In a bowl, combine the flour, salt, and baking powder; stir to combine.
In another bowl, whisk the eggs and yolk. Gradually, whisk in the sugar, then the vanilla and melted butter. Using a rubber spatula, fold in the flour mixture. Set the batter aside while you heat a pizzelle iron. I use VillaWare Prego Nonstick Pizzelle Baker.
After the iron has been heating for a few minutes, open the cover and spray the top and bottom of the imprints with oil. Close the iron to finish heating.
Drop a scant tbsp of the batter just a bit further of the center of each imprint, close the cover, and bake the pizzele until the steam stops coming out from between the plates.
You can peek without ruining them – if they are too pale, close the iron and bake longer.
Transfer baked pizzele to a wire rack to cool. Repeat the process, there's no need to grease the iron again. Store the cooled cookies between sheets of parchment paper in an air-tight container.