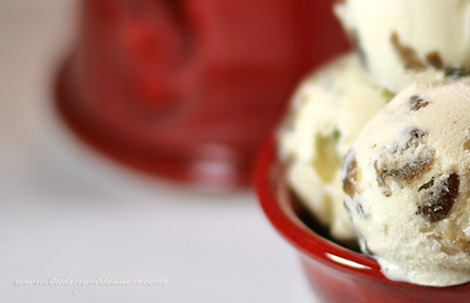 According to my taste, commercially made rum raisin ice cream never has enough raisins or rum in it. Contrarily, this one is loaded with raisins. And even Jack Sparrow would approve the quantity of rum. Although I would think twice before serving this ice cream to your precious little ones.
It makes about 2 quarts. Scale down the recipe if your ice cream machine can't process all custard at once.
Ingredients:
1 ½ cups dark raisins
½ cup dark rum
4 cups half-and-half
8 large egg yolks
1 1/3 cups sugar
2 cups whipping cream
1 tsp pure vanilla extract
Preparation:
The day before, place the raisins in a small saucepan, cover with cool water and bring just to a boil over medium-high heat. Immediately, remove from the heat and drain. Transfer the raisins in a small jar, add rum. Cover the jar and refrigerate until ready to use.
Prepare an ice bath.
Drain the raisins, reserving the rum. Set aside both while preparing the custard.
In a large heavy saucepan, heat the half-and-half just below the boiling point. In a bowl, whisk the egg yolks, then whisk in the sugar. Very gradually, in a thin stream, whisk in the hot half-and-half. Wash the saucepan (or use another one), and return the egg yolk mixture into the clean saucepan. Cook the custard over medium-low heat for about 15 minutes, stirring constantly with a wooden spoon, until the custard coats the back of the spoon.  Quickly strain the custard into a large bowl. Stir the raisins into the custard. Add the whipping cream and vanilla. Place in the ice bath and cool. Chill, covered,  in a fridge for at least 4 hours, better overnight.
Freeze in the ice cream maker. When the ice cream is almost frozen, pour in the reserved rum and churn until combined, about 2 more minutes. Transfer to containers, cover, and freeze to firm up.