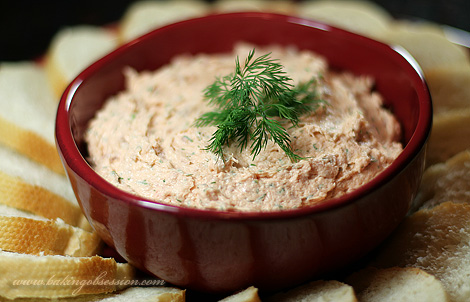 I like it best with a fresh baguette.
Makes about 2 cups
Ingredients:
1 ½ cups (about 6 oz) flaked cooked salmon- roasted, grilled or poached salmon leftovers, or substitute for good quality canned Sockeye, drained, skinned and boned

4 oz cream-cheese, softened
1 tbsp fresh lemon juice
1 tbsp prepared white horseradish
4 oz smoked salmon
2 tbsp chopped fresh dill
Sliced baguette for serving
Preparation:
Combine first 4 ingredients in a food processor. Blend until smooth, scraping occasionally down the sides of the bowl. Add the smoked salmon and dill. Pulse just until the smoked salmon is finely chopped (do not puree it). Transfer to a bowl. Season with salt and pepper to your taste.