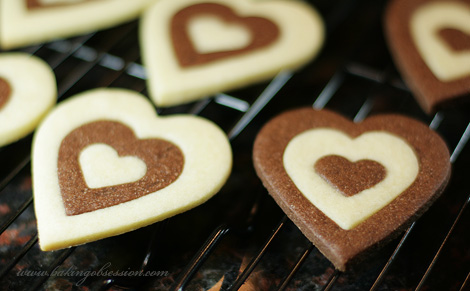 These cookies are certainly eye catchers. The dough is very forgiving, a pleasure to work with – it makes it perfectly suitable for a "bake together with kids" project.
If you like your cookies crisp, bake them a bit longer. But don't let them sit in the oven for too long, or you will lose a beautiful contrast between the chocolate and vanilla dough.
Ingredients:
1 cup (2 sticks) unsalted butter, room temperature
1 cup granulated sugar
1 large egg
2 teaspoon vanilla extract
2 2/3 cups all purpose flour
1

teaspoon baking powder
1/2 teaspoon salt
¼ cup unsweetened cocoa
Preparation:
Using an electric mixer, beat the butter and sugar in a large bowl until fluffy. Beat in the egg and vanilla. Sift the flour, baking powder, and salt over; stir to blend well. Turn the dough out onto lightly floured surface and knead gently 1 minute. Divide the dough into 2 equal pieces. Add the cocoa powder to the one portion, knead until well combined. Shape the dough into two 1/2-inch-thick discs. Wrap in plastic and refrigerate at least 3 hours and up to 1 day. Let the dough soften slightly at room temperature before rolling out.
Position rack in center of oven and preheat to 350°F. Line two large baking sheets with parchment paper. Working with 1 dough piece at a time, roll out the dough on a parchment lined surface to 1/8-inch thickness. Using floured, about 3-inch size, heart-shaped cutters, cut out the cookies. Pull away the excess dough from around the cookies. Transfer the cookies to the prepared baking sheet, spacing about ½ inch apart (cookies will not spread during baking). Repeat with the trimmings. Cover the sheet with plastic wrap or parchment and place in a fridge to firm up, for about 20 minutes. Repeat with the second piece of dough. Place the cut out cookies in the fridge as well. With 2-inch heart-shaped cookie cutter, cut smaller hearts in the centers of vanilla and chocolate cookies. Cut the smallest hearts from the medium hearts using tiny 1-inch cutter. Remove the medium-sized and the smallest hearts from the large cookies and switch the different colors to get two-tone cookies. Let chill for another 20 minutes, then bake in batches, for about 11-12 minutes. Let cool 5 minutes on the sheet on the rack, then transfer the cookies to the rack to cool completely.
Keep in an air-tight container for up to 3 days.