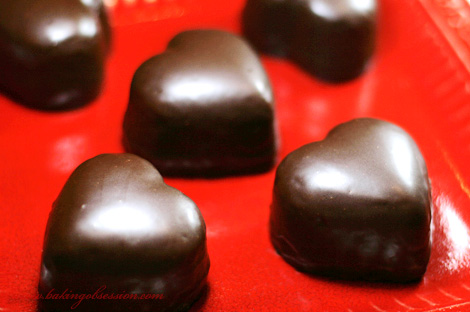 There is another dessert from my romantic menu.
This recipe is almost entirely based on Alice Medrich's recipe from "Bittersweet"
. I just made them a bit more raspberry-flavored by adding a thin layer of raspberry jam glaze underneath the chocolate coating and replacing brandy in the batter and water in the chocolate glaze by raspberry liqueur.
The overall flavor – to die for.
Makes 12 cupcakes
For the cupcakes:
1 cup all-purpose flour
½ cup Dutch-process cocoa powder
¼ tsp baking powder
¼ tsp baking soda
½ tsp salt
½ cup seedless raspberry puree (from fresh or frozen unsweetened raspberries)
3 tbsp raspberry liqueur
1 tsp pure vanilla extract
10 tbsp (1 ¼ sticks) unsalted butter, softened
1 1/3 cups sugar
3 large eggs
1/3 cup seedless raspberry jam, warmed
2 tbsp raspberry liqueur
For the glaze:
8 oz bittersweet or semisweet chocolate, finely chopped
12 tbsp (1 ½ sticks) unsalted butter
1 tbsp light corn syrup
5 tsp raspberry liqueur
Preparation:
Position an oven rack in the lower third of the oven and preheat the oven to 350 F. Butter 12 regular size muffin molds. Sift together the flour, cocoa, baking powder, and salt. Combine the raspberry puree, liqueur, and vanilla in a small bowl; set aside. In a medium size bowl, with an electric mixer, beat the butter until creamy. Add the sugar in a stream and continue to beat on high speed until light and fluffy, about 4-5 minutes. Break the eggs into a cup and whisk to combine the whites and yolks. Take a full 3 minutes to dribble the eggs gradually into the butter mixture, beating constantly. Lower the speed. Add the flour mixture in three additions alternating with the raspberry puree in two additions, beginning and finishing with flour. Scrape the bowl as necessary and don't overbeat. Divide the batter between the molds and place the pan on a baking sheet. Bake until a toothpick comes out clean, about 20-25 minutes. Cool on a rack for 15 minutes, unmold. Cool completely on the rack.
In a small bowl, combine the warmed jam and raspberry liqueur. Brush over cooled cupcakes.
For the glaze, place all the ingredients in a small heatproof bowl set in a wide skillet of barely simmering water and stir frequently until the chocolate is almost completely melted; do not overheat. Remove the glaze from the water bath and set aside to finish melting, stirring once or twice until perfectly smooth. If necessary, before using, cool the glaze to 88-90 F. It will be optimally shiny if you pour it at that temperature. Place a sheet of parchment paper or foil under the rack with cupcakes and pour the glaze over the cupcakes. Any excess glaze may be refrigerated for up to a week or frozen.