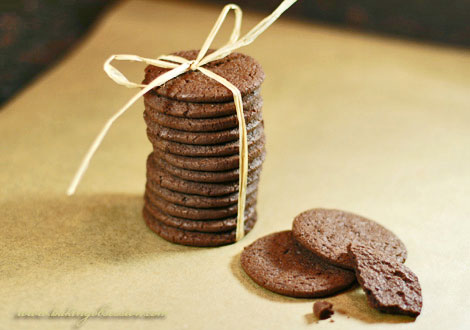 These are the cookies I always use for my cheesecake crusts since they are so easy to make and the flavor is nothing comparing to store bought cookies. Crispy throughout, the wafers are also great accompany to a cup of coffee or ice-cream. Use a good quality cocoa for the best result.
The recipe is from Alice Medrich.
Makes about fifty to sixty cookies
Ingredients:
1 ½ cups all-purpose flour
¾ cup unsweetened cocoa powder (natural preferred)
1 cup plus 2 tbsp sugar
¼ tsp salt
¼ tsp baking soda
14 tbsp (1 ¾ sticks) unsalted butter, slightly softened
3 tbsp whole milk
1 tsp pure vanilla extract
Preparation:
Combine the flour, cocoa, sugar, salt, and baking soda in the bowl of food processor and pulse several times to combine. Cut the butter into about 12 chunks and add them to the bowl. Pulse several times. Combine the milk and vanilla in a small cup. With the processor running, add the milk mixture and continue to process until the mixture clumps around the blade or the side of the bowl. Transfer the dough to a bowl and knead a few times.
Form the dough into a log about 14 inches long and 1 ¾ inches in diameter. Wrap the log in parchment paper and refrigerate until firm, at least 1 hour.
Center an oven rack and preheat the oven to 350 F. Line the baking sheets with parchment. Cut the log of dough into slices a scant ¼ inch thick and place them 1 inch apart on the lined sheets. Bake, in batches, for 12-15 minutes. The cookies will puff up and deflate; they are done about 1 ½ minutes after they deflate. Cool the cookies on the baking sheets on racks.
The cookies should crisp up as they cool. If they don't, you are not baking them long enough – in which case, return them to the oven to reheat and bake a little longer, then cool again.
The cookies may be stored airtight for up to 2 weeks or frozen up to months.