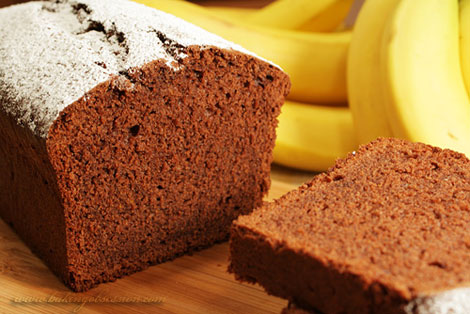 That's what I've come up with after several attempts to produce a banana bread completely opposite in texture and flavor to the "traditional" banana bread – wet and sticking to your teeth, which is available, unfortunately, in almost every coffee shop throughout North America. My version is moist (don't confuse with wet), fragrant, and chocolaty.
My close friend, who spent most of her life in Budapest and Zurich and has very sophisticated taste as well as her own conception of what a dessert should be like, approved this cake.
Makes one loaf, about 10 servings
Ingredients:
1 oz unsweetened chocolate, finely chopped
2 cups all-purpose flour
¼ cup Dutch-process cocoa powder
¾ tsp baking soda
½ tsp baking powder
¼ tsp salt
1 ½ cups granulated sugar
Zest of 1 large orange
8 tbsp (1 stick) unsalted butter, at room temperature
2 large eggs, at room temperature
1 cup mashed bananas (about 3 medium, very ripe ones)
1 tsp pure vanilla extract
2 tbsp Grand Marnier or other orange-flavored liqueur
1/2 cup buttermilk, at room temperature
Preparation:
Center the oven rack and preheat the oven to 350F. Butter a loaf pan, dust with flour. Line the bottom with a piece of parchment paper.
Melt the chocolate in a microwave or use a double boiler. Set aside.
Sift together the flour, cocoa powder, baking soda, baking powder, and salt. Set aside.
In a small bowl, combine the granulated sugar and orange zest. Rub with your fingers.
In a large bowl, with an electric beaters on medium speed, beat the butter for a couple of minutes, until creamy. Gradually add the sugar, then beat on high speed until light and fluffy, about 4 minutes. Add the eggs, one at a time, beating well after each addition. Add the melted chocolate, followed by the banana puree, vanilla, and Grand Marnier. Beat well, scraping the sides of the bowl as needed. Reduce the speed to low. Add the dry ingredients in three additions alternating with the buttermilk in two additions, mixing just to combine. Do not overbeat the mixture.
Scrape the batter into the prepared pan, smooth the top with a rubber spatula.
Bake until a cake tester inserted in the center comes out clean, about 1 hr and 15 minutes. Remove the cake from the oven, cool on a rack for 10 minutes, then unmold. Cool completely on the rack before serving.
Can be baked a day before. Keep at room temperature, tightly covered.