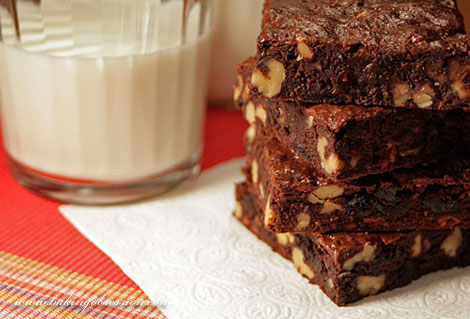 David Lebovitz claims them like absolutely the best. And I'm not going to argue with him; the brownies are very, very good.
David emphasizes the importance of beating the batter before baking which is unusual for brownies in general, but necessary in this particular recipe.
Makes about 9 to 10 (depends on the way you cut them)
Ingredients:
6 tbsp (3/4 stick) butter, salted or unsalted
8 oz bittersweet or semisweet chocolate, chopped
¾ cup sugar
1 tsp pure vanilla extract
2 large eggs
¼ cup flour
¼ tsp salt
1 cup toasted and chopped walnuts (or other nuts)
1/3 cup dry cherries, chopped
1/3 cup cocoa nibs
Preparation:
Preheat the oven to 350 degrees. Butter a 9-inch square cake pan and line the bottom with parchment paper.
Melt the butter in a medium-size saucepan. Add the chocolate to the butter, stir over low heat until melted.
Remove from the heat and stir in the sugar and vanilla. Beat in the eggs, one at a time.
Add the flour, and salt and stir energetically for 1 minute, until the batter loses its graininess and becomes smooth and glossy.
Stir in the chopped nuts, cherries, and the cocoa nibs. Scrape the batter into the prepared cake pan and bake for 30 minutes. Cool completely before removing the brownies from the pan.
The brownies will keep well for up to 4 days (what is hardly possible) at room temperature.