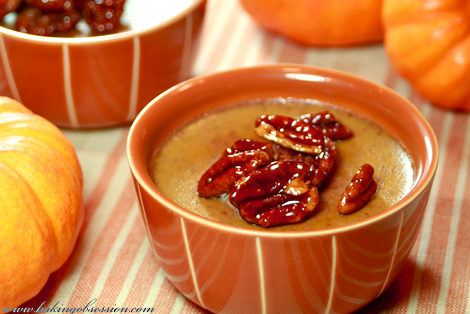 What a nice contrast – mildly spiced cool delicate custard and sweet-salty caramelized pecans. The pecans are terrific on their own and ridiculously easy to make. I found myself consuming way too many of these with my morning espresso instead of having proper breakfast…
For pots de crème
1 cup canned pumpkin
½ cup light brown sugar, lightly packed
1 cup light cream
2 large eggs
3 large egg yolks
1 tbsp molasses
1 tsp pure vanilla extract
1 tsp ground cinnamon
¼ tsp fresh grated nutmeg
¼ tsp ground cloves
½ tsp salt
For candied pecans
1 tbsp honey
2 tbsp light corn syrup
1 ½ tbsp sugar
¾ tsp salt
¼ tsp (generous) freshly ground black pepper
1/8 tsp cayenne pepper
¼ tsp cinnamon
1 ½ cups pecan pieces
Make pots de crème:
Preheat the oven to 325 F and position a rack at the center. Lightly oil six-4-oz ramekins. Have ready a roasting pan that is at least 2 inches deep and large enough to hold the ramekins. Line the pan with a clean kitchen towel and arrange the ramekins evenly in the pan.
In a medium bowl, whisk together all ingredients. Strain the mixture into a 4-cup glass measure or a bowl with a pouring spout. Pour the custard into the prepared ramekins.
Place the roasting pan with the ramekins on the oven rack and pour hot water into the outer pan until it reaches about halfway up the sides of the ramekins. Cover the pan loosely with aluminum foil and bake until the custards are set but still jiggle when you shake them, 30-35 minutes.
Transfer the roasting pan to a cooling rack and remove the foil, leaving the ramekins in the water until the custard reaches room temperature. Removed the cooled ramekins from the water bath and refrigerate until chilled, about 2 hours. Wait until they are completely cold before covering tightly with plastic wrap.
Make candied pecans:
Leave the oven at 325 F. Spray a baking sheet with a nonstick spray or line it with a silicone mat. Combine all ingredients except the pecans in a bowl. Stir to blend. Add the pecans, stir gently to coat. Transfer to the baking sheet.
Place a large piece of foil on a work surface. Bake the pecans for 5 minutes. Using a fork, stir the pecans to coat them with melted spice mixture. Continue baking until the nuts are golden and the coating bubbles, about 10 minutes. Transfer the pecans to the foil. Working quickly, separate the nuts with the fork. Cool. Can be made 3 days ahead. Store airtight at room temperature.
Serve the chilled pots de crème topped with candied pecans. Offer additional pecans in a bowl on the side.