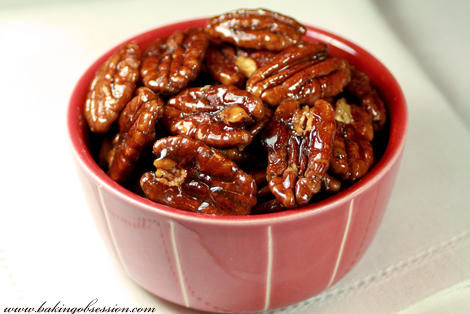 Indgredients:
1 tbsp honey
2 tbsp light corn syrup
1 ½ tbsp sugar
¾ tsp salt
¼ tsp (generous) freshly ground black pepper
1/8 tsp cayenne pepper
¼ tsp cinnamon
1 ½ cups pecan pieces
Preparation:
Leave the oven at 325 F. Spray a baking sheet with a nonstick spray or line it with a silicone mat. Combine all ingredients except the pecans in a bowl. Stir to blend. Add the pecans, stir gently to coat. Transfer to the baking sheet.
Place a large piece of foil on a work surface. Bake the pecans for 5 minutes. Using a fork, stir the pecans to coat them with melted spice mixture. Continue baking until the nuts are golden and the coating bubbles, about 10 minutes. Transfer the pecans to the foil. Working quickly, separate the nuts with the fork. Cool. Can be made 3 days ahead. Store airtight at room temperature.
Serve the chilled pots de crème topped with candied pecans. Offer additional pecans in a bowl on the side.