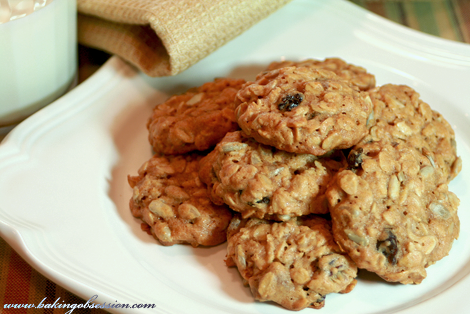 These cookies are full of healthy nutritious ingredients. Thus they are perfect for packing into the lunch boxes.
Makes about 4 dozens.
Ingredients:
1 cup whole wheat flour
1 cup all-purpose flour
1 tsp baking powder
½ tsp baking soda
1 tsp Kosher salt
1 tsp ground cinnamon
½ tsp freshly ground nutmeg
1 cup (2 sticks) unsalted butter, at room temperature
¾ cup (lightly packed) dark brown sugar
¾ cup granulated sugar
¼ cup honey
2 large eggs
1 tbsp pure vanilla extract
3 cups old-fashioned oats
1 cup raisins
1 cup chopped pitted dates, mixed with 1 tsp of flour (to prevent them from sticking together)
1 cup toasted sunflower seeds
Preparation:
Center the oven rack. Preheat the oven to 350 F. Line the baking sheets with parchment or silicon mats.
Mix the first 6 ingredients in a medium bowl.
Using an electric mixer, in a large bowl, beat the butter for a couple of minutes. Gradually add the both sugars and continue beating until fluffy. Beat in the honey, eggs (one at a time), and vanilla. Reduce the speed, and gradually add the flour mixture. Switch to a wooden spoon and stir in the oats, raisins, dates, and seeds. Drop the batter by a tablespoon (a little ice cream scoop is a very useful tool here) onto the prepared sheets, spacing the mounds 2 inches apart. Flatten the cookies slightly.
Bake the cookies in batches until golden brown, about 12-13 minutes. Cool completely on the sheets on a rack. Can be made 2-3 days ahead. Store in an airtight container at room temperature.
Variation:
Sometimes, I use dry cherries and chopped bittersweet chocolate instead of the raisins and dates. Add chopped walnuts (or different nuts) instead of the seeds.