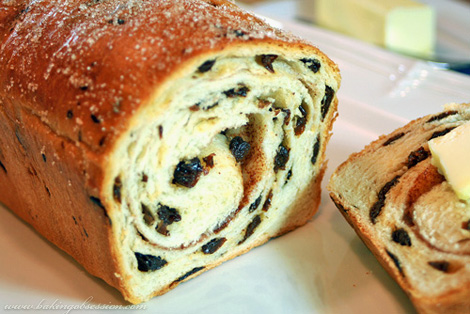 We like it either way – fresh and warm, right from the oven and the next day, toasted and generously buttered. It's not even close to a store-bought raisin bread, but much more flavorful.
Ingredients:
3 1/2 cups all-purpose flour
1/4 cup granulated sugar
1 tbsp instant yeast
1/2 tsp salt
1/4 tsp baking soda
1/4 cup unsalted butter, softened + 2 tbsp softened + 1 tbsp melted
1 1/4 cups buttermilk, at room temperature
1/4 cup cinnamon sugar divided (1 tbsp ground cinnamon mixed into 3 tbsp granulated sugar)
2 cups of raisins
Preparation:
Plump the raisins. Put them in a small saucepan, cover with cold water, bring to the simmer over med/high heat. Drain, blot with a paper towel, set aside.
Combine all the ingredients, except the cinnamon sugar, 3tbs butter and the raisins, in the bowl of an electric mixer with a dough hook or in a mixing bowl.
Mix on slow speed for 1 min, then on medium speed for 8 min. If mixing by hand, stir the ingredients till they form a ball and knead for 10-12 min. The dough should be soft and smooth.
Fold in the raisins.
Put the dough in a bowl sprayed with oil, turn the dough, so, the both sides are lightly oiled. Cover with plastic wrap and allow it to rise in a warm place until the dough increases about 1 1/2 times in size, 60-90 min.
Lightly dust a working surface with flour and roll out the dough into a rectangle about ¼ inch thick.
Smudge the dough with 2 tbsp butter, sprinkle with 2 tbsp of cinnamon sugar. Roll up the dough like a jelly roll, pinch the ends and the seam closed, and placed the loaf in a greased or parchment lined 5 by 9-inch loaf pan. Mist the top with cooking spray, cover with plastic, and allow it to rise in a warm place till almost doubled in size.
Preheat an oven to 350 F. Bake the loaf for about 40 min, till it is golden brown and makes a hollow sound. If the top gets brown too soon, cover it loosely with foil.
Remove from the pan, brush the top with 1tbsp melted butter, sprinkle with 2 tbsp of cinnamon sugar.