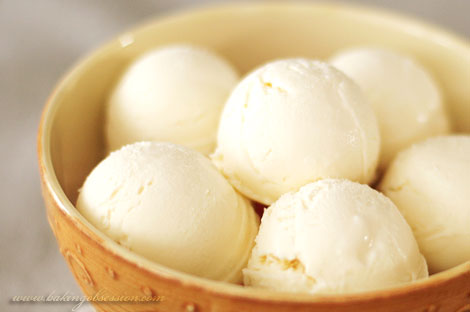 If you like sour cream and ice cream, you are certainly going to love this. Good quality of the sour cream really matters. The sauce is great with almost any ice cream or fresh fruit.
Makes about 3 cups.
For ice cream:
2 cups sour cream
2/3 cups sugar
1 tbsp plus 1 tsp cornstarch
1/8 tsp salt
1 cup whole milk
For raw sugar toffee sauce:
¾ cup firmly packed raw sugar (light or dark muscovado, piloncillo, or palm sugar)
1 cup heavy cream
1/8 tsp salt
½ tsp dark rum (if using muscovado or piloncillo)
½ tsp vanilla (for the palm sugar)
Make ice cream:
Put the sour cream in a medium bowl and set aside.
In a small saucepan, combine the sugar, cornstarch, and salt. Whisk in a little of the milk until smooth, then whisk in the remaining milk. Whisk constantly over medium heat until the mixture is warm and foamy. Continue to whisk as the foam subsides and the mixture thickens and begin to boil. Boil for 1 ½ -2 minutes, whisking and scraping the bottom and sides of the pan constantly. It's important to cook the base long enough, or you will taste and feel the raw cornstarch and the flavor of the sour cream in the ice cream will not be clear and bright.
Remove the pan from the stove and whisk for a few seconds to release some heat. A little at a time, whisk the hot mixture into the sour cream. Let cool, then cover tightly and refrigerate, covered, until thoroughly chilled, at least 4 but preferably 12 hours.
Freeze in the ice cream machine. Serve, or pack into airtight container and freeze.
Make sauce:
In a medium saucepan, whisk together the sugar, cream, and salt. Bring to simmer over low heat and cook 5 minutes, stirring frequently. Remove from the heat. Serve warm or at room temperature. Keeps for several weeks in the refrigerator.
Makes about 1 ½ cups of the sauce.
The recipe is from Alice Medrich's "Pure Dessert".