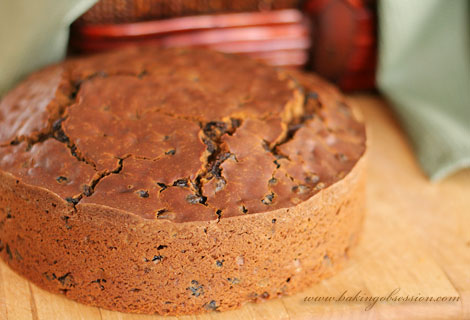 The cake is incredibly moist, full of plumped, spice-infused raisins. We couldn't wait too long for cake to cool and dug in while it was still warm. The cake is good either way – warm or at room temperature.
This is an adaptation of a recipe from "The Irish Heritage Cookbook".
Serves about 10
Ingredients:
2 tsp ground coriander
1 tsp ground cinnamon
1/2 tsp ground cloves
1/2 tsp ground allspice
1 1/2 tsp freshly ground nutmeg
2 teaspoons ground ginger
2 1/4 cups water
3 cups raisins
8 tablespoons (1 stick) cold butter, cut into small pieces
1 cup sugar
3 cups all-purpose flour
2 teaspoons baking soda
1 teaspoon salt
Preparation:
The day before baking, in a medium saucepan, combine the spices, water, raisins, butter, and sugar. Bring to a boil over medium heat, stirring, then reduce the heat and simmer for 20 minutes. Remove from the heat and add the whiskey. Let cool completely, cover, then refrigerate overnight.
The next day, put the saucepan with the raisin mixture into a bowl filled with hot water. Stir to dissolve the butter set on the surface.
Center one of the oven racks, place another rack in the lower third of the oven. Preheat the oven to 350°F. Place a baking pan filled with water on the lower rack (Pyrex 9 x 13 glass pan works well). Generously grease and flour a 9-inch springform pan.
Sift the flour, baking soda, and salt together into a large bowl. Stir in the raisin mixture and blend well. Stir in the egg. Pour into the prepared pan. Smooth the top. Place on the center rack of the oven. Bake until the cake is lightly browned and a skewer inserted into the center comes out clean, about 1 hour 30 minutes. Cover the top loosely with foil if it browns too fast. Transfer to a cooling rack. Cool for 15 minutes, unmold.