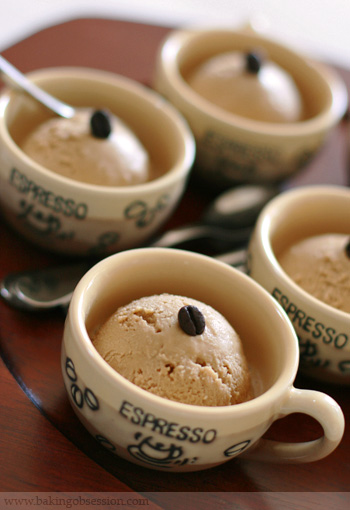 This is the ice cream that was served in its unfrozen form with mocha éclairs mentioned earlier. The recipe is from Kate Zuckerman "The Sweet Life". She emphasizes the importance of the caramel in achieving deeper, more complex and interesting flavor of the ice cream. I do agree with her, the caramel does really improve my old time favorite ice cream. High concentration of sugar raises the temperature at which the eggs coagulate, increasing the time it takes to cook and thicken the custard. But it also reduces the freezing temperature and improves the texture.
And a word of warning. The ice cream is sweet due to the caramel presence, which is fine by me. But if you usually prefer lightly sweetened ice cream this might be not your thing.
Makes 1 quart
Ingredients:
1 cup minus 1 tbsp sugar
Pinch of cream of tartar
2 cups heavy cream
½ cup whole milk
½ cup freshly brewed, strong espresso
1 egg
6 egg yolks
1/8 tsp salt
1 tbsp instant espresso powder (like Medaglia D'Oro)
Preparation:
In a heavy small saucepan over moderate heat, stir together the sugar, 1/3 cup water, and the cream of tartar. Cook, stirring occasionally, until the sugar dissolves, then raise the heat to moderately high and boil without stirring, occasionally brushing down the sides of the pan with a wet pastry brush, until the sugar light golden brown. Remove from the heat; the sugar will continue to cook. When the caramel is a deep amber brown, stand back and carefully add the cream. Return the pan to medium-high heat and whisk the cream until dissolved and the caramel is completely smooth. Whisk in the milk and espresso, remove from the heat, and set aside.
Prepare an ice water bath.
In a bowl, combine the egg, egg yolks, and salt and whisk for 1 minute. Slowly whisk 1/3 of the hot espresso cream into the egg mixture to warm it. Gradually, pour the warmed egg mixture into the hot espresso cream, whisking constantly as you pour. Cook the custard over medium heat, stirring continuously and scraping the bottom with a wooden spoon until the custard thickens enough to coat the back of the spoon. Remove from the heat and stir in the instant espresso powder. Strain the crème anglaise through a fine-mesh strainer into a bowl. Place the bowl with the custard into the ice bath to cool completely, stirring often. Cover with plastic wrap pressing it directly over the custard surface, transfer to the refrigerator and chill a minimum of 2 hours and up to 2 days (best – overnight) before churning it in an ice cream machine. Once properly chilled, freeze in the ice cream machine. The ice cream is done once it has increased in volume and it mounds like softly whipped cream. Don't overprocess. Keep in the freezer tightly covered for up to a week. But the ice cream is best eaten within the first 24 hours.