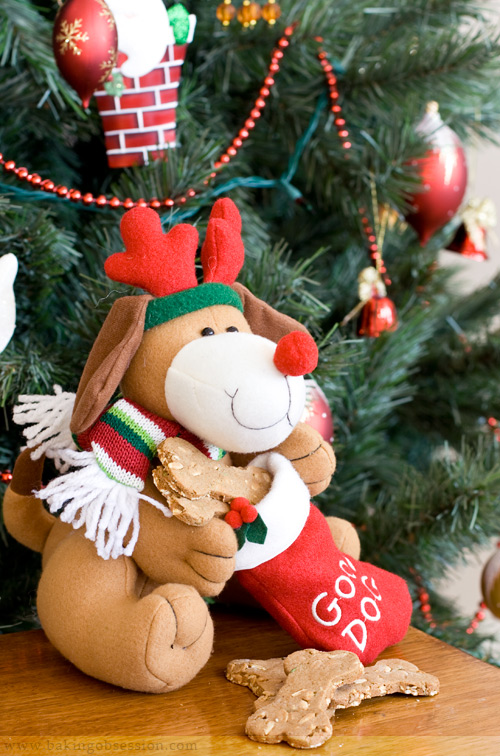 Who's been a good doggie? My girl certainly has. And she certainly deserves these wholesome treats made exclusively for her. Unlike other dog biscuits I posted earlier, these ones are for dogs' consumption. They are made of brown rice flour, rolled oats, brewers yeast and beef stock. And Lexis finds them delicious.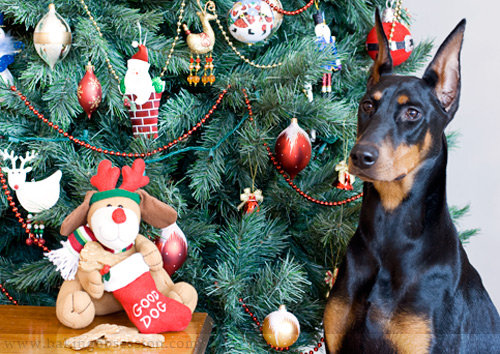 Lexis is almost 10 months now and what an incredibly smart, loyal, loving and gentle dog she is! She is starting her advance obedience class in a few days. Here, she is demonstrating her "wait".
Nobody in the family can imagine our life without her. We all became happier and healthier since we've got her. Happy New Year, dear!!!
Makes about 20 3-inch cookies
Ingredients:
1 cup brown rice flour + more for rolling the dough
½ cup rolled oats
½ cup brewers yeast (can be found in the natural foods isle)
About ¼ cup finely chopped fresh parsley and mint (for fresh breath :)
½ cup beef stock (or chicken stock)
1 tbsp olive oil
Preparation:
Center the oven rack and preheat the oven to 375F. Line a large baking sheet with parchment paper or a silicone mat.
In a medium bowl, whisk together the rice flour, oats, yeast, and herbs. In a measuring cup, combine the beef stock and olive oil. Pour over the dry ingredients and mix with a wooden spoon until combined. The dough will be slightly sticky, but manageable.
Dust the working surface with some rice flour or line with parchment to prevent sticking. Dust your hands with rice flour and transfer the dough onto the prepared working surface. Flatten into a disk and roll about 1/4-inch thick. Dip your cookie cutter into some flour and cut out as many cookies as you can (press hard to cut through the rolled oats). Gather the scraps and reroll again, repeat until there's no dough left.
Transfer the cookies onto the prepared baking sheet without leaving much space between them. They won't spread, they will dry. Bake the cookies for about 17 to 20 minutes, until light golden brown. Cool on the baking sheet on a cooling rack. If the cookies are not crisp throughout, return them to the turned off oven and let them sit there until the oven is cool.
Store in an air-tight container at room temperature.
The recipe is slightly adapted from Lee Wyllie. You should check her web site, she's got other yummy dog treat recipes there.