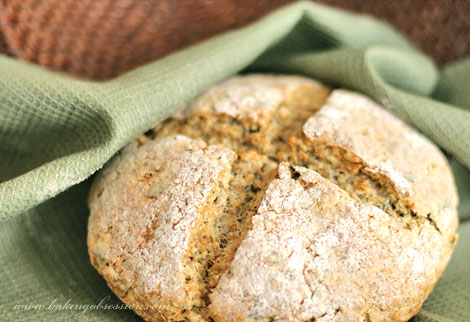 I bake this bread far more often than just for St. Patrick's Day. I altered a traditional recipe (which is indeed wonderful) by omitting the raisins, decreasing the sugar and adding the seeds. I wanted to serve it with salads and soups for lunch or supper. It is not just good, it's healthy for you – relatively low in fat (I always use low-fat buttermilk with great result), rich in fiber and protein.
Makes one loaf, about 8 servings
Ingredients:
1 cup all-purpose flour
1 cup whole wheat flour
1 cup oats (either works)
1 tbsp granulated sugar
1 heaped tsp salt
1 tsp baking soda
½ tsp baking powder
4 tbsp (1/2 stick) cold unsalted butter, cut into ½- inch pieces
½ cup lightly toasted sunflower seeds
½ cup pumpkin seeds
2 tbsp poppy seeds
2 tbsp flax seeds
1 tsp caraway seeds
Preparation:
Center the oven rack. Preheat the oven to 350 degrees. Cover a baking sheet with parchment paper or just grease the sheet.
In a large bowl, whisk the first 7 ingredients. Add the butter and work into the flour using a pastry blender or your fingers (my preference here). Don't be too heavy-handed, think of a scone making technique. Small butter pieces are still should be present. Add the seeds, mix to combine. Pour in the buttermilk stirring with a fork. The dough will be sticky; that's the way it should be. Transfer the dough onto a generously floured surface, and fold it over 3-4 times. Form into a round loaf. Dust the top of the bread with some flour. Using a sharp knife slash a cross on the top, about 1/3 of the overall thickness.
Bake for about 50-55 minutes, until the bread is golden brown.
Cool on a rack.