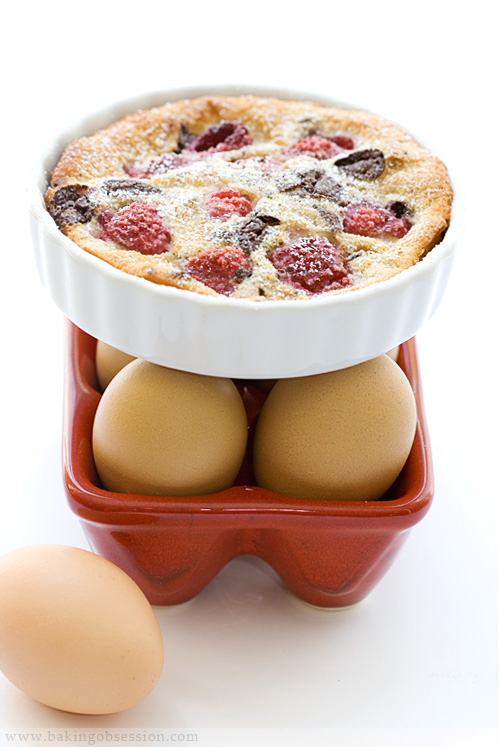 Son: "What's for dessert, mum?"
Mum: "Uh… fresh raspberries, perhaps? You see, your mum has been very busy reading your Harry Potter book left so hastily right in her view…" (and now this mum is worrying if a dreadful regressing back-to-her-childhood process has already begun, since she's found the particular book of yours quite fascinating indeed)
Son: "It won't suffice… I was hoping for something else…" (the kid is obviously spoiled)
Mum: "Raspberry and chocolate clafouti then?"
Son: "Umm… dunno… but it sounds interesting!" (it sure does in mum's so perfect French)
And so they've settled.
Clafouti is one of the easiest desserts to fix. It's French in origin, usually made with cherries (stones within). As per my dad's description, the clafouti is like a sweetened omelet (he wasn't very fond of this dessert, to be honest). Well, it's not exactly the omelet. It's a baked custard, thickened with just a bit of flour to make it sliceable later (you will need to slice it if you bake the clafouti in a large pie pan). I think it's rustically nice, and easy, and versatile. You can use apricots, peaches, plums, pears, any berry you like or have on hand.
Makes 6 individual servings or one 9-inch clafouti (still about 6 servings)
Ingredients:
About 4 oz bittersweet or semisweet chocolate, chopped medium-fine
About 8 oz fresh raspberries
1 cup whole milk
2 tbsp butter
½ cup sugar
¼ tsp salt
1 tsp pure vanilla extract
½ cup all-purpose flour
¼ tsp ground cinnamon
4 large eggs
Confectioners' sugar for dusting
Preparation:
Center an oven rack and preheat the oven to 350F. Butter six 4-inch brulee dishes or one deep 9-inch pie pan. Divide the chopped chocolate and the raspberries between the dishes. Place the baking dishes onto a large baking sheet. Set aside.
In a small saucepan combine the milk, butter, sugar, and salt. Heat over medium heat, stirring, until the butter has melted and the sugar has dissolved. Remove from the heat, stir in the vanilla extract.
Sift the flour and cinnamon into a medium bowl. Whisk in one of the eggs until the mixture is smooth and lump-free. Whisk in the remaining eggs, then gradually whisk in the warm milk mixture. Carefully pour the batter into prepared baking dishes, dividing it equally. Bake for about 30 minutes, until puffed and golden brown, and a tip of the knife inserted into the custard comes out clean (don't mind the melted chocolate). Remove from the oven, cool slightly, dust with the confectioners' sugar and serve.