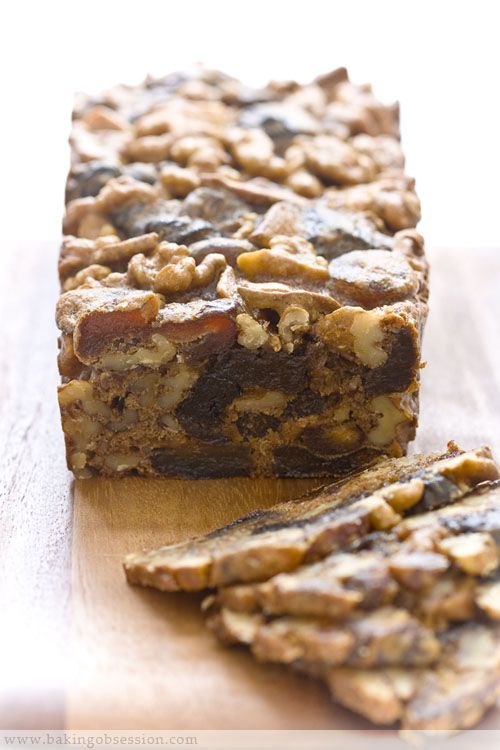 These are basically fruit and nuts with a bit of flour and eggs to bind them together. Exceptionally easy to make, delicious and nutritious, this cake makes not just a fantastic snack, but also a perfect addition to the cheese platter. The fruits sure can be varied, and as long as they are natural, unsulfured and of a good quality, the end result will be terrific.
The recipe is from "Pure Dessert"
Makes one large loaf or two small ones
Ingredients:
¾ cup all-purpose flour
½ tsp salt
¼ tsp baking powder
¼ tsp baking soda
¾ cup firmly packed light or dark brown sugar or raw sugar such as light muscovado or grated piloncillo
½ cup dried whole apricots
½ cup whole dried prunes
½ cup dried pears, very roughly chopped
1 cup quartered moist dates
3 cups walnut halves
3 large eggs
1 tsp pure vanilla extract
Preparation:
Position an oven rack in the lower third of the oven and preheat the oven to 300F. Line the bottom and sides with parchment paper.
In a large bowl, whisk the flour with the salt, baking powder, and baking soda to combine. Add the brown sugar, all the dried fruit, and nuts and mix thoroughly with your fingers. Set aside.
In a small bowl, beat the eggs with the vanilla extract until light. Pour the egg mixture over the dry ingredients and mix well with a wooden spoon or your hands until all the fruits and nuts are coated with the batter. Scrape into the prepared pan (pans).
Bake until the top is deep golden brown and the batter clinging to the fruit seems set, about 1hr. for smaller loaves, 10 to 15 minutes longer for a large loaf. Tent loosely with foil if the cake appears to be browning too much. Cool completely in the pan(s) on a rack.
When completely cool, remove the cake from the pan(s). The cake keeps, wrapped airtight in foil or plastic wrap, for several weeks at room temperature or at least 3 months in the refrigerator. It can also be frozen for at least 6 months.
To serve, cut into thin slices with a sharp heavy knife.