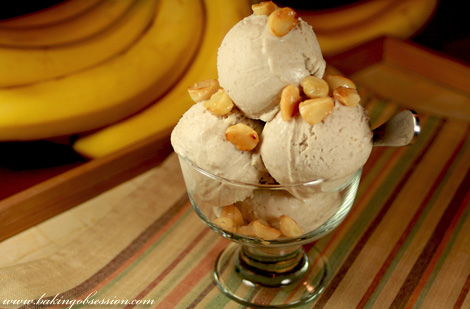 What a wonderful way to get rid of these brown spotted bananas. And it's a lot easier than baking banana bread and tastes superb. The recipe is coming from Alice Medrich's "Pure Dessert"
Ingredients:
2 cups pureed very ripe bananas (4-5 medium)
1 cup heavy cream
3 tbsp sugar
¾ tsp pure vanilla extract
1/8 tsp salt
1 cup coarsely chopped macadamia nuts for serving (optional)
Preparation:
In a medium bowl, stir the banana puree with the cream, sugar, vanilla, and salt.
Let stand briefly, then stir again to make sure that the sugar is dissolved. Chill.
Freeze the mixture in the ice cream machine.
Serve soft or transfer to an airtight container and freeze, until it is hard enough to scoop, 3-4 hours.
I like to serve it sprinkled with toasted salted macadamia nuts. Toast the nuts in the 325 F oven for about 6-7 minutes until light golden, take them out from the oven, add a tiny bit of softened butter and ¼ tsp coarse salt, stir.