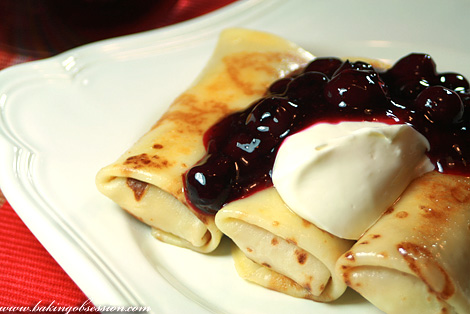 The combination of the curd cheese and cream cheese makes the filling very smooth. I usually put just a touch of icing sugar to sweeten the filling slightly, so, you might want to add more sugar according to your taste. The curd cheese is surprisingly easy to make or you can always find it in European deli stores.
For crêpes:
For filling:
½ lb curd cheese, home-made or store-bought
½ lb cream cheese
1-2 tbsp icing sugar
Zest of 1 lemon, preferably organic (optional)
About 4 tbsp unsalted butter for sautéing the filled crêpes
For serving:
Preparation:
Process the curd cheese, cream cheese, zest (if using) and icing sugar in a food processor until smooth, for a minute or two.
Place a generous tablespoon of the cheese filling down the center of the crêpe. Fold the bottom part of the crêpe over the filling then fold the sides and roll up the crêpe as a cigar. Fill the rest of the crêpes in the same manner. At this point you can put the filled crêpes in the container and refrigerate until serving time.
At the time of serving, warm a plate in the 300F oven, it will keep the finished crêpes warm. Heat a large skillet over medium-high heat. When the pan is hot, add 1 tbsp butter and swirl to coat the pan. Add the crêpes, seam side down, without overcrowding the pan. Cook until just browned, about 1 minute, carefully turn them, and brown the bottom. Place on the warm plate and continuer with the remaining crêpes. Serve immediately. Offer the blueberry sauce and the sour cream in the separate bowls.