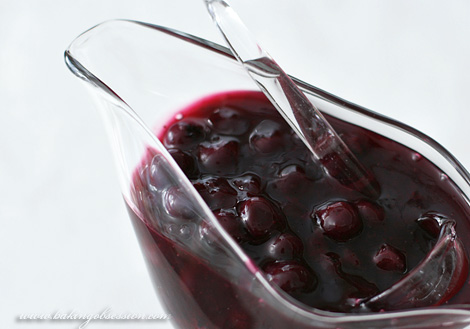 This recipe makes about 4 cups of the sauce. But if you think this is unnecessary large amount, please reconsider. This is very versatile sauce. You can eat it with your pancakes, waffles, pour over yogurt or vanilla ice cream. The sauce is wonderful served with a lemon cheesecake or pound cake. And it will keep up to a week in the refrigerator.
Ingredients:
4 cups fresh or frozen blueberries (it is not necessary to thaw frozen berries)
2/3 cup water
2/3 cup sugar
Grated zest and juice of 1 lemon
3 tbsp cornstarch
¼ cup water
Preparation:
In a large saucepan combine the blueberries, water, sugar, lemon zest and juice. Bring to a boil over medium-high heat, then reduce the heat and simmer gently for a minute or two; the berries should soften slightly, and some of their skins will pop. In a small bowl, mix together the cornstarch and water, and add it into the berries. Simmer for a couple of minutes, stirring constantly, until slightly thickened. You have to cook the cornstarch sufficiently enough to get rid of the chalky starch flavor. Taste to be sure it's gone. Remove from the heat, cool, then refrigerate tightly covered.