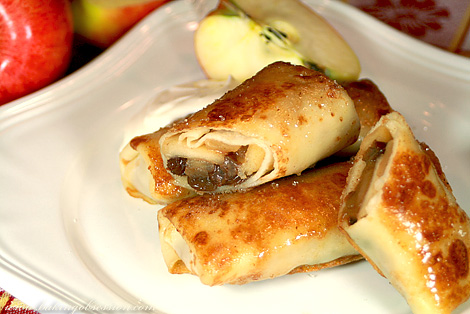 Soft spicy apples and plumped in rum raisins contrast wonderfully with crunchy caramel coating of the crêpes. Add a bit (or a generous amount) of cool sour cream to the hot crêpes and you have a perfect finale of your dinner or a very nice breakfast.
For crêpes:
For filling:
4 tbsp (1/2 stick) unsalted butter
½ cup (packed) golden brown sugar
6 medium size apples (I like Gala), cored, peeled, quartered, cut crosswise into ¼ inch slices
1 tsp cinnamon
¼ tsp freshly grated nutmeg
2/3 cup raisins
3 tbsp water
3 tbsp dark rum
Unsalted butter, granulated sugar for caramelizing the crêpes
Preparation:
Melt the butter in a heavy large skillet over the medium-high heat. Add the brown sugar. Cook until a grainy sauce forms, about 1 minute. Mix in the apples. Cook until the apples are tender and the sauce is reduced to glaze, about 7-10 minutes, stirring often. Add the cinnamon and nutmeg. Set the apples aside.
Put the raisins in a small saucepan with the water, bring to a boil over medium heat and cook until the water almost evaporates. Add the rum and let it warm for about 30 seconds. And now, the fun part. Turn off the heat, stand back and ignite the rum with a long match. Allow the flames to die down, and add the raisins to the apples. If this procedure makes you nervous skip the igniting part. Just plump the raisins in rum. For this put the raisins in a small saucepan, cover them with water. Bring just to a boil, drain them well and add 2 tbsp of dark rum. Let them soak for at least 30 minutes, overnight is even better, so consider doing this a day before. Then just add the raisins and the rum to the sautéed apples; there's no need to drain the raisins.
When the filling is cool enough to handle start filling the crêpes.
Place a generous tablespoon of the apple filling down the center of the crêpe. Fold the bottom part of the crêpe over the filling then fold the sides and roll up the crêpe as a cigar. Fill the rest of the crêpes in the same manner. At this point you can put the filled crêpes in the container and refrigerate until serving time.
At the time of serving, warm a plate in the 300F oven; it will keep the finished crêpes warm. Heat a large skillet over medium-high heat. When the pan is hot add 1 tbsp butter and swirl to coat the pan. Sprinkle about 2 tsp sugar over the butter, add crêpes seam side down without overcrowding the pan. Cook until just browned, about 30 seconds. Sprinkle the crêpes with some sugar, carefully turn them and brown the bottom. Place on the warm plate and continue with the remaining crêpes. Serve immediately with sour cream.