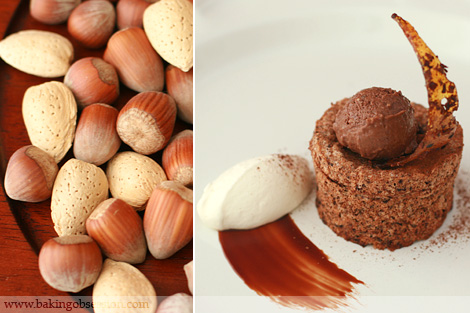 I adapted this cake recipe from Alice Medrich's "Pure Dessert" who, in her turn, borrowed the idea from Claudia Roden. I substituted a half of almonds for the hazelnuts, I think they make the flavor more interesting. The cake was delicious and so easy to make! It's rich but not heavy or dense, it's also quite moist. Unsweetened chocolate (and there's plenty of it) cuts the meringue sweetness down very well. But the recipe does require a good quality unsweetened chocolate. And I'm afraid, it means to find something better that the Baker's unsweetened squares.
I baked the batter in the mini-cake pans. But the cake originally designed to fit into a regular 9-inch springform pan. Serve it cut in slices and plated with unsweetened whipped cream and/or Baci ice cream, and some cocoa nib brittle for garnish.
Makes about 10-12 servings
Ingredients:
½ cup unblanched or blanched whole toasted almonds
½ cup toasted and skinned whole hazelnuts
7 oz good-quality unsweetened chocolate, roughly chopped
1 cup sugar, divided
1/8 tsp salt
8 large egg whites (1 cup)
¼ tsp cream of tartar
Unsweetened cocoa for dusting
Unsweetened or lightly sweetened whipped cream for serving
Baci ice cream for serving
Cocoa nib brittle for serving (use this recipe but substitute the hazelnuts for crushed nibs)
Preparation:
Position a rack in the lower third of the oven and preheat the oven to 350F. Grease the sides of the 9-inch springform pan and line the bottom with parchment paper.
Combine the almonds, hazelnuts, chocolate, ½ cup of the sugar, and the salt in a food processor and pulse until the nuts and chocolate are very finely chopped but not completely pulverized. Set aside.
In a clean, dry mixer bowl or other large bowl, combine the egg whites with the cream of tartar and beat with an electric mixer at medium speed until soft peaks form. Increase the speed and gradually add the remaining ½ up sugar, then beat until the meringue forms stiff but not dry peaks. Add one-third of the nut mixture to the meringue, and fold in with a large rubber spatula just until nearly incorporated. Fold in half of the remaining nuts, then fold in the rest of the nuts.
Scrape the batter into the lined pan and spread it evenly. Bake until the cake has risen and is golden brown on top and a toothpick inserted in the center of the cake comes out clean, or with a little melted chocolate, 25 to 30 minutes. Let cool on a rack for 10 minutes, then unmold. Cool completely on a rack. Cover or wrap tightly, and store for up to 3 days at room temperature.