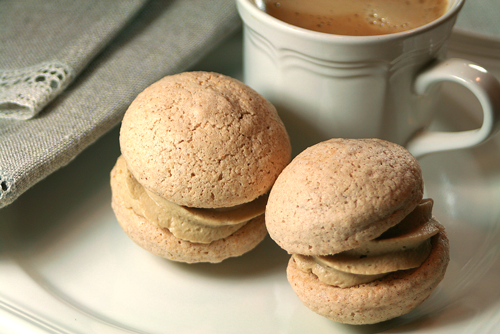 These cookies make a stylish ending of an Italian-themed dinner. The cookies can be baked in advance as well as the filling. Just be sure to assemble them right before serving. In case you really pressed for time and have to make a very quick dessert, omit the baking part, and sandwich store-bought amarettis with this delicious mascarpone cream.
For cookies:
2 egg whites, at room temperature
2/3 cup extra fine sugar, divided
1 tsp almond extract or a couple of drops of almond oil
1 cup ground almonds
1 tbsp all purpose flour
1 tbsp cornstarch
1 tsp cinnamon
For filling:
1 tbsp instant espresso powder
1 tbsp boiling water
4 oz mascarpone
1/4 cup confectioners' sugar, sifted
3/4 tsp pure vanilla extract
1 tsp Kahlua
1/2 cup whipping cream
Make cookies:
Preheat the oven to 325 F. Line a baking pan with parchment paper.
Put the ground almonds in a bowl and sift 1/3 cup of sugar, flour, cornstarch and cinnamon over them, toss to blend.
In a separate bowl, whip egg whites until foamy, then gradually add remaining 1/3 cup of sugar. Whip until stiff peaks form. Gently stir in almond extract and then fold in the almond mixture. Transfer the batter into a piping bag with a round 1/2 inch wide tip.
Holding the bag vertically about 1 inch from the baking sheet, pipe round mounds spacing them 2 inches apart. Smooth the tops with wet finger.
Bake the cookies on the middle rack for about 20-24 min, until lightly browned.
Cool on a rack. Can be kept in an air-tight container for a couple of days.
Make filling:
Stir the espresso powder and boiling water together in a small cup, cool to room temperature.
Put the mascarpone, sugar, vanilla and Kahlua in a bowl and whisk until blended and smooth.
Whip the cream until it holds firm peaks. Using a rubber spatula, stir a couple of tbsp of the whipped cream into the mascarpone. Fold in the rest of the whipped cream. Add 2 tsp of dissolved espresso into the filling, gently stir. Taste the filling, add more espresso extract if you wish.
Filling can be made ahead and kept refrigerated up to 2-3 days. Stir to loosen up before filling the cookies.
Assembling the cookies:
Just before serving, transfer the filling into a piping bag with a medium size star tip. Generously pipe the filling on the bottom of the cookie, top with another cookie. Assemble the rest of the sandwiches in the same manner, serve.
It's not necessary to pipe the filling, you can just mound the filling using a spoon. The taste still will be delicious.
Makes about 12 filled cookies, 6 servings.