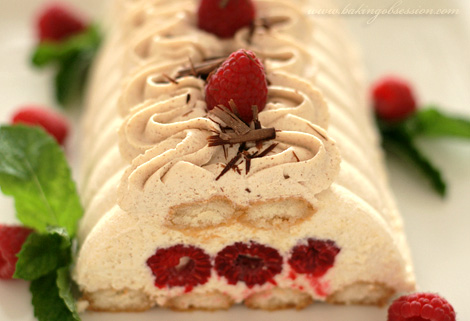 I've made a berry variation of this Italian dessert before. Usually I used berry puree with an addition of a matching liqueur for dipping the ladyfingers. But this tiramisu is different from what I used to make. Last weekend we were invited to our friends' house for dinner, and after a terrific meal we were served the raspberry tiramisu for dessert. Somehow it had never occurred to me until then that Martini Bianco was perfectly suitable for dipping the ladyfingers. It makes such a wonderful and easy dessert base. An addition of cinnamon to the mascarpone cream and a lot of fresh raspberries (whole and intact, not pureed) tie nicely with the martini flavor. I'm very much obliged to my friend Olya for this neat idea. Below is my version of Olya's dessert, tweaked just a little bit.
I used a 3 ½ -cups capacity Rehrücken mold for assembling, any loaf pan of similar size will work, or adjust the ingredients to fit into 8-inch square pan.
I'm submitting this dessert as my entry for this month Sugar High Friday, the theme of which is "Berries".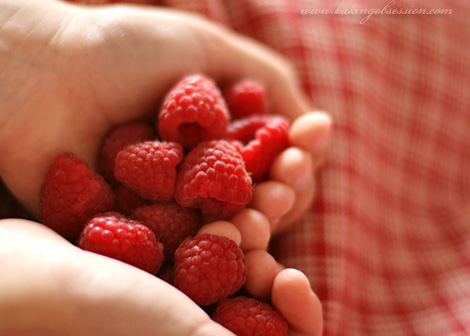 Serves 10 to 12
Ingredients:
1 cup mascarpone cheese

¼ cup sour cream

¼ cup icing sugar, sifted

½ tsp ground cinnamon (or a few drops of cinnamon oil)

⅛ tsp salt
1 cup chilled whipping cream
1/3-1/2 cup Martini Bianco

About 18 ladyfingers

1 ½ cups fresh raspberries
For the decoration:
2/3 cup whipping cream, chilled

2 tbsp icing sugar, sifted

Scant ½ tsp ground cinnamon (or a few drops of cinnamon oil – even better)
A few fresh raspberries and mint leaves
Preparation:
Lightly spray the mold with oil and line with plastic wrap leaving an overhang on the sides.
In a medium bowl combine the mascarpone, sour cream, icing sugar, cinnamon, and salt together, stir to combine well.
In another bowl whip the cream until soft peaks form. Using a rubber spatula, gently fold the cream into the mascarpone mixture, in 3 additions.
Pour the martini into a small container. Dip some of the ladyfingers into the liqueur (turn quickly to moisten both sides) and arrange them to cover the bottom of the prepared mold. Spread half of the mascarpone cream over the sponge fingers, then top with the raspberries. Spread the rest of the cream over the raspberries. Dip the rest of the sponge fingers into the martini and place them on the top of the cream to cover completely. Press the plastic wrap overhang over the top of the dessert. Refrigerate overnight.
When ready to serve, invert the tiramisu onto a serving platter. Whip 2/3 cup of the cream with the icing sugar and cinnamon, and pipe decoratively on the top of the dessert. Press some of the fresh raspberries into the whipped cream, and sprinkle the top with the chocolate shavings. Serve.