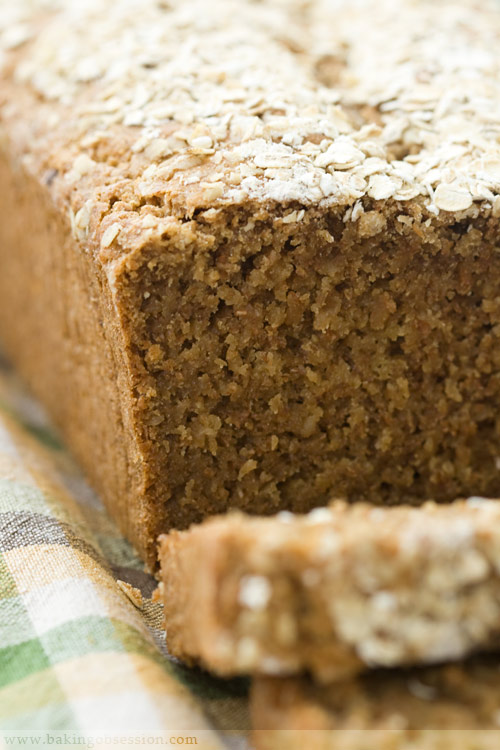 I baked it mostly out of curiosity. It is quite unusual, liquid batter which is prepared the way the classic Irish bread is made – from the cold butter cut into the flour and cold buttermilk mixed in. Besides the buttermilk the generous amount of Guinness is added to this mixture.
I was really wondering how the bread would turn out with the two and a half cups of liquid… It turned out pretty nice, very moist as you can see. My son, after he tasted the bread still warm from the oven, said that it resembled a banana bread.
Happy St. Patrick's Day!
The recipe comes from Margaret Waterworth who runs a pub in Donaghadee, County Down, Ireland.
You might also find interesting other Irish recipes:
Makes one large loaf
Ingredients:
2 cups fine whole-wheat flour + more for sprinkling a pan and the top of the cake
1 cup wheat bran
1 cup quick-cooking oats (instead of oats and bran, 2 cups of stone-ground whole-wheat flour can be used)
½ cup sugar
1 tsp baking soda
1 tsp salt
1 stick (4 oz) cold unsalted butter, cut into 1/2-inch pieces
1 ¼ cups Guinness stout, cold
1 ¼ cups buttermilk, cold
2 tsp barley malt extract
Preparation:
Center the oven rack and preheat the oven to 375F. Grease well a 9×5-inch loaf pan and sprinkle it with flour.
In a large bowl, whisk together the whole-wheat flour, bran, oats, sugar, soda, and salt. Add the butter and, using a pastry blender or your fingers, cut the butter into the mixture until it is evenly distributed and no large pieces of butter are visible.
In a large liquid measuring cup, or another bowl, whisk together the Guinness, buttermilk, and malt extract. Pour to the dry ingredients and stir with a folk just to combine. The batter will be a porridge-like consistency.
Pour the batter into the prepared baking pan, sprinkle with some whole-wheat flour and/or oats. Put the loaf pan onto a baking sheet and set into the oven. Bake for 35 minutes. Reduce the oven temperature to 325 and bake for 40 minutes longer. The bread is done when a cake tester inserted into the center comes out clean and the bread springs back after being gently pressed on top. Turn the oven off, open the oven door and let the bread cool gradually in the oven for 30 minutes. Remove from the oven, unmold, and cool on a rack.
It's important to bake such cake long enough, otherwise it won't be just the moist cake, but rather wet and heavy.
The cake stays moist for several days. Keep it at room temperature, wrapped in plastic.