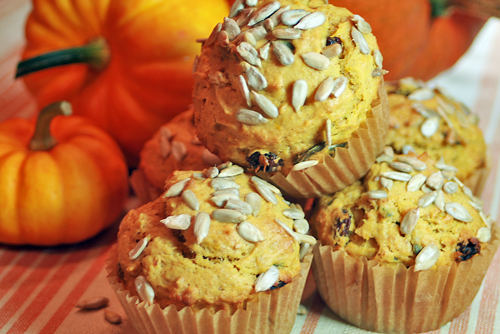 This is an adaptation of Dorie Greenspan's muffins from her most recent book Baking: From My Home to Yours.
I just made them a bit healthier replacing half of the flour with whole wheat and making them nut-free.

Ingredients
1 cup all-purpose flour
1 cup whole wheat flour
2 tsp baking powder
1/4 tsp baking soda
1/2 tsp Kosher salt (1/4 tsp sea salt)
3/4 tsp ground cinnamon
1/2 tsp ground ginger
1/8 tsp freshly grated nutmeg
1/8 tsp allspice
1 stick (8 tbsp) unsalted butter, at room temperature
1/2 cup sugar
1/4 cup (packed) light brown sugar
2 large eggs
1/2 tsp pure vanilla extract
3/4 cup canned pumpkin puree
1/4 cup buttermilk
1/2 cup moist raisins
1/2 cup lightly toasted pumpkin seeds (or chopped pecans)
1/4 cup raw sunflower seeds, for topping
Preparation
Preheat the oven to 400F. Butter the 12 regular-sized muffin molds or fit the molds with paper cups.
Whisk together first 9 ingredients.
Using electric beaters, beat the butter until soft. Add both sugars and continue to beat until light and smooth. Add the eggs, one at a time, beating well after each addition, then beat in the vanilla. Lower the speed and mix in the pumpkin puree and buttermilk. With the mixer at low speed, add the dry ingredients, mixing just until combined. Do not overmix. Stir in the raisins and pumpkin seeds. Divide the batter evenly among the muffin cups and sprinkle some sunflower seeds over the top of each muffin.
Bake for about 25 minutes, or until a toothpick inserted into the center of the muffins comes out clean. Cool the pan on a rack for 5 minutes, then carefully remove muffins from the molds and finish cooling on the rack.
They are the best served warm or at least the same day they are baked. You can freeze them, wrapped airtight up to 2 months. Rewarm in a 350-degree-F oven.