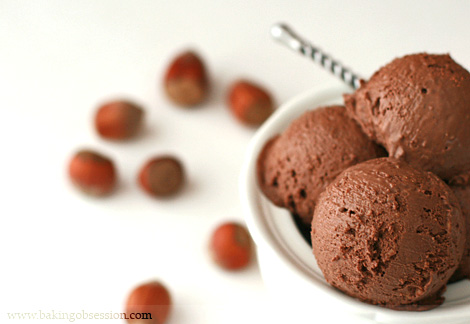 Baci or Gianduja – different names with the same meaning. The flavor is the winning combination of chocolate and hazelnuts – one of my favorite ice cream flavors. I was determined to get it right this time (yes, it was not my first attempt :). I wanted the ice cream to be rich chocolate with pronounced hazelnut flavor. The good quality cocoa powder and bittersweet chocolate took care of the first part of the task while a generous portion of Nutella and toasted coarsely ground hazelnuts provided the ice cream with recognizable and so delectable hazelnutness. The ice cream tasted wonderful, and I was not surprised here. But the texture was a complete and pleasant surprise – it was incredibly smooth and silky. After reading the list of ingredients on the Nutella jar label I realized that the well-known commercially made chocolate-hazelnut spread became the miraculous component responsible for the success. Soy lecithin which is a common emulsifier contributed to the unbelievably smooth texture.
Makes about 2 quarts
Ingredients:
2 cups half-and-half
6 egg yolks
½ cup granulated sugar
¼ cup unsweetened cocoa powder (I used natural)
1/8 tsp salt
4 oz good quality bittersweet chocolate, finely chopped
1 cup Nutella (chocolate-hazelnut spread)
1 cup whipping cream
1 tbsp Frangelico (hazelnut liqueur)
1 tsp pure vanilla extract
Heaped ½ cup coarsely ground toasted hazelnuts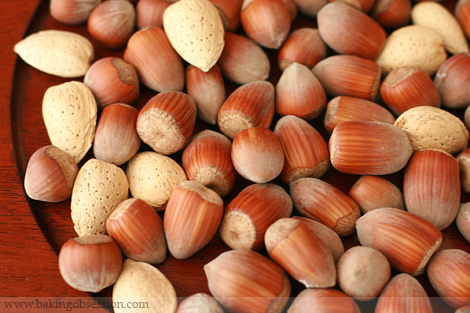 Preparation:
Prepare an ice bath.
In a large heavy saucepan, heat the half-and-half just below the boiling point. In a bowl, whisk the egg yolks, sugar, cocoa powder, and the salt to combine well. Very gradually, in a thin stream, whisk in the hot half-and-half. Return the egg yolk mixture into the saucepan. Cook the custard over medium-low heat for about 15 minutes, stirring constantly with a wooden spoon, until the custard coats the back of the spoon. Quickly strain the custard into a large bowl. Add the chopped chocolate, whisk until the chocolate is melted and the mixture is smooth. Whisk in the Nutella, then add the whipping cream, vanilla extract and hazelnut liqueur, whisk to combine. Place the bowl with the custard in the ice bath and cool, stirring often. Press plastic wrap directly over the cooled custard surface and refrigerate for at least 4 hours, better – overnight.
Whisk the mixture well before freezing it in the ice cream maker. During the last minutes of churning, add the ground hazelnuts to the ice cream, process until combine. Transfer the ice cream to containers, cover, and freeze to firm up.