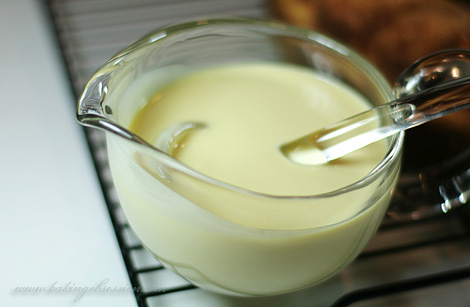 This a wonderful accompaniment to many desserts. It's delicious poured over the cakes, tarts or fruits. Or freeze it in an ice-cream maker to get a great tasting vanilla-honey ice-cream.
For the crème anglaise:
1 cup whole milk
1 cup heavy cream
1 tbsp honey
6 large egg yolk
½ cup sugar
2 tsp pure vanilla extract or 1 vanilla bean (even better)
Make the sauce:
Prepare an ice bath for cooling the crème.
Bring the milk, cream, if using – vanilla bean, cut lengthwise and seeds scraped into the milk, and honey to a boil in a small saucepan.
Meanwhile, in a medium heavy-bottomed saucepan, whisk the yolks and sugar together until well blended. Still whisking, add a little bit of the hot liquid, then slowly pour the rest leaving the vanilla bean behind. Put the pan over medium heat and constantly stir with a wooden spoon until the custard thickens slightly and coats the back of the spoon. The custard has to reach 170 F.
Immediately remove the pan from the heat and strain the custard into a large measuring cup or a bowl. Stir in the vanilla extract if no vanilla bean was used. Put into the ice bath to cool.
Place plastic wrap directly onto the cooled custard and refrigerate until needed. It's best to let it chill for 24 hours before using to intensify the flavor.
Can be refrigerated for up to 3 days.