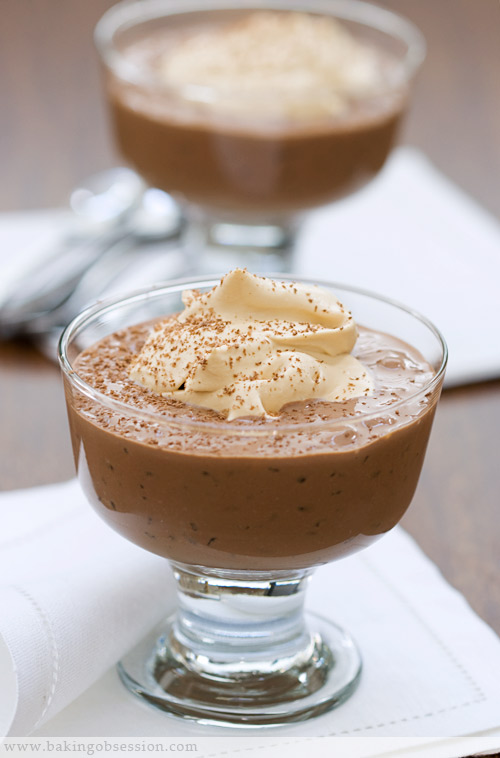 This kind of dessert is my comfort food during sometimes seemingly endless rainy Vancouver days. It's creamy, chocolaty, sweet and soothing.
Makes about 8 servings
For the chocolate rice pudding:
2 cups whole milk
2 cups half-and-half (10% light cream)
½ cup arborio rice
¼ cup granulated sugar
¼ tsp sea salt
4 oz bittersweet chocolate, finely chopped
1 tsp pure vanilla extract
For the caramel Chantilly cream:
¼ cup granulated sugar
2 tbsp water
1 cup whipping cream
1/8 tsp sea salt
½ tsp pure vanilla extract
Make the pudding:
Combine all the ingredients except the chocolate and vanilla in a large heavy saucepan. Place over medium-high heat and bring to a boil, stirring constantly with a wooden spoon. Reduce the heat to medium and simmer the mixture, stirring often, for about 20 to 25 minutes, until the rice is very tender and the mixture is thickened but still soupy (the pudding will thicken further after addition of chocolate and cooling, and even more after refrigerating). If you plan to serve the pudding warm, you might want to cook it a bit longer (about 5 minutes more) to make it slightly thicker. Take the saucepan off the heat and stir in the chocolate. Keep stirring until it's melted. Add the vanilla extract. Transfer the pudding to a medium stainless steel bowl and place the bowl into an ice-cold water bath to cool the pudding quicker. Stir constantly if you don't want skin to form. Once cooled, cover with plastic wrap, pressing directly over the surface and refrigerate until cold.
To serve, divide the pudding between the serving bowls and top with the caramel Chantilly cream.
Make the caramel Chantilly cream (it needs to be thoroughly chilled before whipping, so plan ahead):
In a high-sided medium saucepan, stir together the sugar and water. Cook over medium heat, stirring occasionally, until the sugar dissolves, then raise the heat to moderately high and boil without stirring, occasionally brushing down the sides of the pan with a wet pastry brush, until the syrup turns deep amber in color.
Meanwhile, heat the whipping cream until hot (it will minimize the splatter).
When color is achieved, take the pan off the heat and very carefully pour in the hot cream (pour through a sieve to protect yourself from extremely hot splatter). Place the saucepan with the caramel-cream mixture over medium heat and whisk until the caramel is completely dissolved. Whisk in the salt and vanilla extract. Transfer into a bowl, cool, cover with plastic and refrigerate overnight until very cold.
Close to the serving time, beat the chilled caramel cream, using electric beaters, until medium peaks form. Spoon over the pudding and serve.