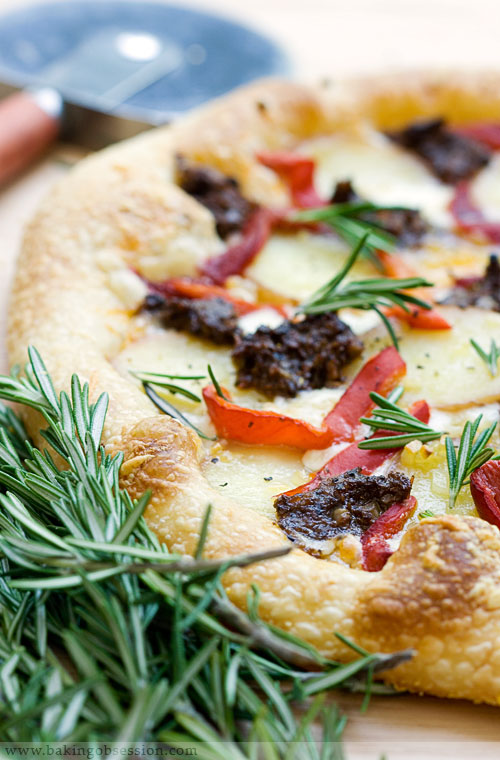 My family loves pizza regardless of topping; as long as there's a good crust and melted cheese on it. I am a bit pickier, but even I find this not-quite-traditional pizza to be delicious.
The crust recipe I used here is Peter Reinhart's. This one is among my favorite recipes, probably the second favorite. The first place is held by another Peter's recipe which is a bit lengthier and requires a poolish pre-ferment (I'll post it one day). I always make a whole batch of dough (enough to make four pizzas) and keep it refrigerated until needed. The dough, made on Friday, is usually turned into a quick assorted pizza-lunch on Saturday and Sunday.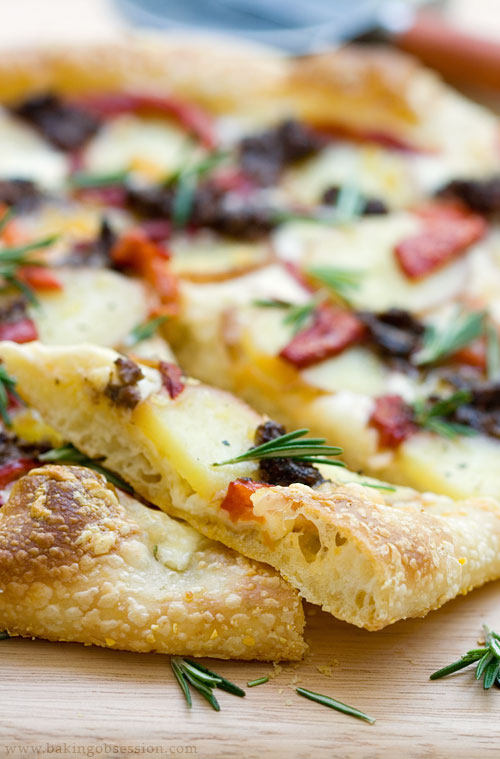 Makes one medium-large pizza plus 3 extra crusts
For the crust: follow this recipe
For the toppings (adapted from the Bon Appetit):
3 tbsp extra-virgin olive oil
1 large garlic clove, finely chopped
4 to 6 baby potatoes (I used a combination of red and Yukon Gold)
About 1/3 cup freshly grated Parmigiano-Reggiano cheese
About 1 ½ cups coarsely grated Italian Fontina cheese (the best you can find)
Salt
Freshly ground black pepper
1 large roasted red bell pepper, peeled, seeded, sliced
¼ cup black olive tapenade
About 1 tbsp finely chopped rosemary (the rosemary on the photo was chopped later, after the photo was taken :)
Prepare the toppings, assemble the pizza:
Please, read the following instructions on how to stretch the dough and prepare it for assembling.
Center an oven rack and preheat the oven with a baking stone in it to 500F.
Heat the olive oil and garlic in a small saucepan over low heat until the mixture begins to bubble, 1 to 2 minutes; do not let the garlic to brown. Set the infused oil aside.
Place the potatoes in a medium saucepan, cover with cold water, and sprinkle with salt. Cover and bring to a boil over high heat. Reduce the heat to medium and boil with the lid slightly ajar until almost tender, about 12 minutes. Drain, cool. Cut the potatoes into 1/8-inch-thick slices.
Sprinkle the stretched dough with the Parmigiano-Reggiano and Fontina, leaving 1-inch plain border around the edge. Arrange the potato slices over the cheese, and then brush the potatoes with some garlic oil. Sprinkle the potatoes with the salt and freshly ground black pepper. Scatter the roasted peppers over the pizza. Spoon heaping ¼-teaspoon dollops of tapenade over. Brush the dough border with the garlic oil (make sure there're no garlic pieces on the bare crust, or they will burn and become bitter).
Slide the pizza into the oven and bake for about 8 to 10 minutes, until the crust is golden brown and the cheese is melted. Transfer the pizza to a cutting board. Drizzle any remaining garlic oil over the pizza. Sprinkle with the finely chopped rosemary and serve.