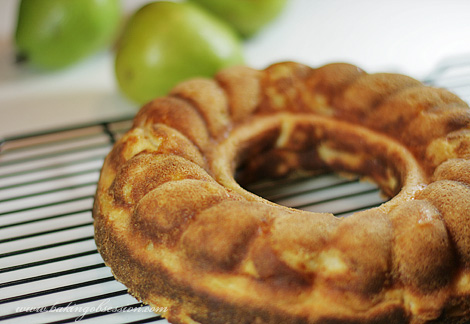 This is another way to enjoy fresh curd cheese. Sort of Russian cheesecake. But please, don't confuse it with American cheesecake, the texture and flavor are completely different. I like it best warm, eaten with sour cream. But for a more elegant presentation, serve the zapekanka with honey-flavored crème anglaise, kids' favorite, may I say.
I like to offer it for a weekend breakfast but, of course, it can be served as a dessert any time of the day.
Serves about 10
Ingredients:
3 large pears (I prefer Bartlet)
Zest of 1 large lemon
½ cup granulated sugar
¼ cup honey
4 eggs, separated
1 tsp pure vanilla extract
1 lb of fresh curd cheese, put through a sieve
½ cup cream of wheat (semolina)
1 tsp baking powder
1/2 tsp baking soda
1/8 tsp salt
1 tsp lemon juice
Unsalted butter, melted, for greasing a tube pan
Fine dry bread crumbs for dusting a pan
Sour cream or Crème anglaise for serving
Preparation:
Center an oven rack and preheat the oven to 375 F. Generously butter a 10-cup tube pan and dust it with the bread crumbs.
Put the sugar into a large bowl, add the lemon zest and rub with your fingers until the sugar gets moist and aromatic. Add the yolks, and with an electric mixer, beat until the mixture is thick and light in color, about 5 minutes. Add the vanilla, then the curd cheese, and cream of wheat. Mix well to combine. Set aside.
Peel and core the pears. Cut them lengthwise into quarters and slice very thinly. Cover with wet towel or plastic wrap and put aside for a moment.
In a grease free bowl, with a clean whisk attachment, whip the whites with the salt and lemon juice until firm peaks form.
Add the baking powder and baking soda to the curd cheese mixture, mix using the same beaters as you used for beating the egg whites.
Fold the whipped egg whites into the curd mixture, then gently fold in the sliced pears.
Transfer the mixture to the prepared pan. Use the rubber spatula to smooth and even the top.
Bake for about 45 minutes until golden brown and tooth pick comes out clean.
Cool on a rack for about 15 minutes, then unmold.
Serve warm with sour cream or crème anglaise.