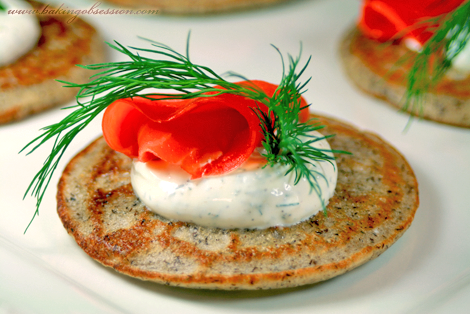 It makes a lot of blinis but you can keep them in the fridge. Just brush them with some melted butter, reheat for five minutes in the oven (350F) and they will be like freshly made. You can freeze them too.
For the pancakes:
1 cup all-purpose flour
2/3 cup buckwheat flour
8 tsp sugar (2 tbsp + 2 tsp)
2 ½ tsp active dry yeast
½ tsp (generous) salt
2 cups whole milk
6 tbsp butter, cut in cubes
For the topping:
1 cup sour cream
¼ tsp salt
¼ tsp black pepper
2 tsp chopped fresh dill or chives
About 8 oz

thinly sliced smoked salmon or 2 oz of caviar or salmon roe
For the garnish:
Make the pancakes:
Whisk together the first 5 ingredients in a large bowl.
Place milk and butter in a saucepan. Stir over the low heat just until the butter melts (about 110 F). Pour the warm milk mixture into the flour mixture and whisk until smooth. Cover with plastic wrap and let stand in a warm place until doubled in volume, 1 to 1 ½ hours.
Whisk the buckwheat batter to deflate; then whisk in eggs. Can be prepared 1 day ahead. Cover, chill. Rewhisk before using.
Preheat the oven to 200 F. Heat a large skillet or a griddle over medium heat. Brush lightly with oil or melted butter. Working in batches, pour 2 tbsp of the batter for each blini onto the griddle, spacing apart. Cook until bubbles form on top and begin to pop, about 1 ½ minutes. Turn the blini; cook until golden brown on the bottom, about 1 ½ minutes longer. Transfer to a baking sheet. Tent with a piece of foil and place in the oven to keep warm while cooking the remaining blinis.
If you don't serve them right away, cool the blinis on a rack, cover and chill. Brush them with melted butter and rewarm on a baking sheet in 350 F oven for 5 minutes.
Make the topping:
Stir together all topping ingredients except the salmon.
Arrange the warm blinis on a platter. Spoon 1 generous tsp of sour cream atop each. Top with the smoked salmon or caviar. Garnish wish the dill sprigs and serve.