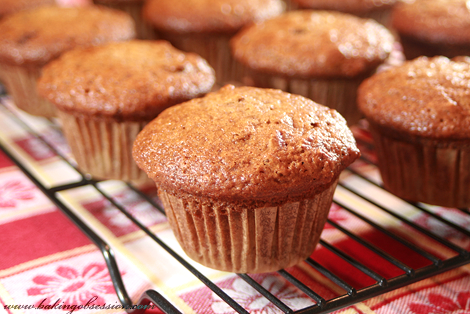 This is a great recipe. It's not just delicious and healthy but unlike the most of muffin recipes, the batter can be made up to a week before and kept in the refrigerator ensuring you have freshly baked muffins any time you want or need.
For filling
8 oz cream cheese, softened
1/3 cup sugar
2 tbsp all-purpose flour
1 tsp pure vanilla extract
For batter
1 ½ cup whole wheat flour
1 cup all-purpose flour
1 cup granulated sugar
½ cup (packed) light brown sugar
2 ½ tsp baking soda
1 tsp Kosher salt
1 tbsp cinnamon
½ tsp freshly grated nutmeg
3 ½ cups raisin bran cereal
2 large eggs, lightly beaten
2 cups well-shaken buttermilk (low-fat works)
½ cup vegetable oil
½ cup raisins
Preheat oven to 375 F and butter or line 24 (if baking all muffins at once) regular size muffin tins.
Make filling:
In a small bowl stir together the filling ingredients until well combined. Filling keeps, covered and chilled, 1 week.
Make batter:
Into a large bowl sift together the flour, sugar, baking soda, salt, cinnamon, and nutmeg and stir in the cereal. In a large measuring cup whisk the buttermilk, oil and eggs. Stir into the dry ingredients and stir until combined. Stir in the raisins. Batter keeps, covered and chilled, 1 week.
Spoon 1 heaping tbsp of the batter into each tin and top with 2 tsp of the filling (a small ice-cream scoop is a real helper here). Spoon 1 heaping tbsp of the batter, spreading to cover the filling completely. Bake the muffins on the middle rack for about 25 minutes, or until a tester comes out clean. Cool for 5 minutes on a rack, unmold.
Makes 24.