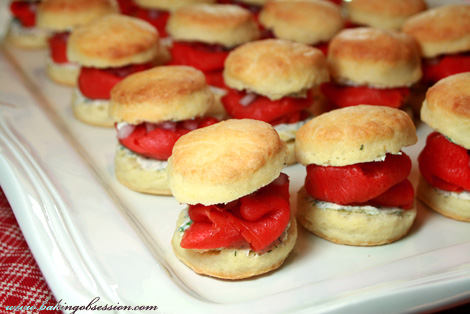 If you make the scones beforehand and freeze them the whole dish will be assembled in a flash.
Makes about 20
For scones
2 cups all-purpose flour
1 tbsp baking powder
2 tsp sugar
½ tsp salt
1 ¼-1 ½ cups cold heavy cream
For filling
1 cup finely chopped red onion
1 tbsp white wine vinegar
1 tbsp sugar
4 oz cream cheese, softened
2 tbsp sour cream
3 tbsp chopped chives
1 tbsp chopped fresh dill or 1 tsp dried
1 tbsp drained capers
About 8 oz thinly sliced smoked salmon
Make scones:
Center a rack in the oven and preheat the oven to 425 F. Line a baking sheet with parchment or silicone mat. You can use two baking sheets (put one into another) if you have extra to protect the bottoms of the scones.
Whisk the dry ingredients in a bowl. Pour about 1 ¼ of the cream over them, stir with the fork. If necessary, add more cream, a spoonful at a time, until you've got a nice soft dough. Gently knead the dough (3-4 turns should be enough) to bring everything together.
Lightly dust a work surface with flour. Roll the dough until it is about ½ inch thick. Don't overwork the dough!
Use 2-inch-diameter biscuit cutter to cut out as many biscuits as you can. Try to cut the biscuits close to one another so you get the most you can out of this first round. Gather the scraps together and reroll. Transfer the scones to the baking sheet. At this point the scones can be frozen on the sheet, then wrapped airtight and kept for up to 2 months. Bake without defrosting for about 22-25 minutes. If you bake freshly made scone right away, bake for about 18-20 minutes, or until they are tall, puffed and golden brown.
Cool them on a rack just until they reach the room temperature and proceed further with the recipe.
Make filling:
Mix the red onion, sugar and vinegar in a small bowl. Let stand 10 minutes.
Meanwhile, mix the cream cheese, sour cream, chives, dill and capers in another small bowl.
Assemble the appetizers:
Split each scone in half horizontally. Spread the cream cheese mixture over the tops and the bottoms dividing equally. Top the bottom parts with the smoked salmon, then sprinkle red onion mixture. Replace the tops over the bottoms. Place on a plate and serve at once.