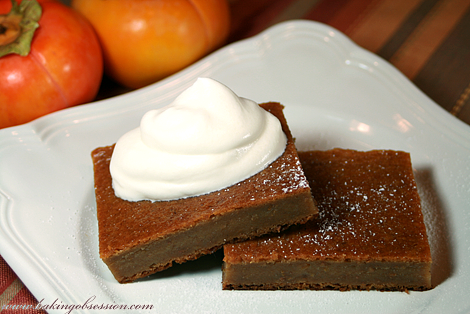 Very appropriate dessert for this time of year when the persimmons are in abundance.

Makes one 9×13 cake, 15-20 servings (depends on the appetite)
Ingredients:
About 6 large persimmons (preferably very ripe)
1 ½ cups sugar
2 large eggs
1 tsp baking soda
1 tsp pure vanilla extract
1 ½ cups buttermilk (low-fat will do)
1 ½ cups all-purpose flour
1 tsp baking powder
½ tsp ground cinnamon
1/8 ground ginger
½ tsp Kosher salt
¼ tsp freshly grated nutmeg
¼ cup whipping cream
2 oz (4 tbsp, ½ stick) unsalted butter, melted and cooled
Preparation:
Center a rack in the oven and preheat it to 350 F. Spray the inside of the 9×13-inch with non-stick spray or line the bottom with the parchment paper.
Peel the persimmons and puree them in a food processor until the pulp is smooth, you should get about 1 2/3-2 cups of puree. Transfer the pulp to the bowl. Add the sugar and stir until thoroughly blended. Lightly beat the eggs with a fork and add them to the persimmon mixture, mix well.
Stir the baking soda and vanilla into the buttermilk. Add this mixture to the persimmon mixture and blend it thoroughly.
Sift together the flour, baking powder, salt and spices. Add the dry ingredients to the persimmon mixture in 3 stages, stirring to blend completely after each addition.
Add the cream and butter to the batter and stir to blend in thoroughly.
Transfer the batter to the prepared pan. Bake for about 1hr 5 – 1hr 10 minutes, until a cake tester inserted into the center comes out clean.
Remove the pan from the oven and cool completely on a rack.
Cut the pudding into squares, dust lightly with confectioners' sugar.
Serve with unsweetened cream, whipped with pure vanilla extract.
Can be stored in the refrigerator up to 4 days, tightly covered.