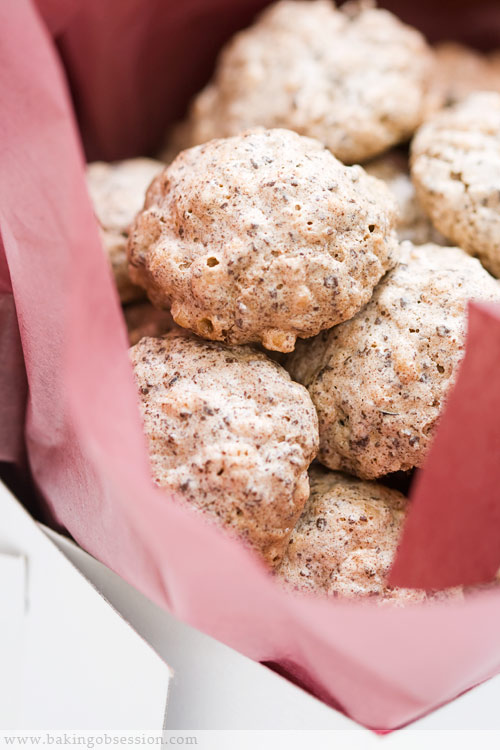 I was improvising to satisfy my son's sweet tooth. Nut meringue are surely nice, but when the kid is allergic to all possible nuts existing, barely sweetened cereals make acceptable substitute. Bittersweet chocolate and some chopped prunes cut the sweetness down a little. The latter also add a bit of chewiness to otherwise crispy throughout cookies.
Makes about 5 dozen
Ingredients:
2/3 cup fine granulated sugar, divided
4 oz bittersweet chocolate, coarsely chopped
3 cups Rice Krispies cereal (or any other cereal, or 2 cups cereal + 1 cup chopped walnuts)
2 oz finely chopped dry prunes
3 large egg whites, at room temperature
¼ tsp salt
pinch cream of tartar
Preparation:
Center an oven rack and preheat the oven to 300F. Line a large baking sheet with parchment paper or silicon mat.
In the bowl of a food processor, pulse the chocolate and 1/3 cup of sugar together until the chocolate is finely ground. Transfer to a bowl, stir in the cereal and prunes. Set aside.
In a clean mixer bowl whip the egg whites until frothy, add the salt and cream of tartar and beat with an electric mixer at medium speed until soft peaks form. Increase the speed and very gradually add the remaining 1/3 cup of sugar, then beat until the meringue forms stiff but not dry peaks. Dump all the chocolate-cereal mixture over the whipped whites and fold it with a rubber spatula until combined.
Using a small ice cream scoop or two regular spoons, scoop about 1 tbsp-portions of meringue onto the prepared baking sheet spacing them 1 inch apart. Bake for about 20 to 25 minutes, until very lightly browned. Cool on the sheet on a rack for 5-10 minutes, then remove the meringues from the baking sheet with a metal spatula (or pry off the parchment, if using the parchment paper) and cool completely on the rack. Store in an air-tight container.