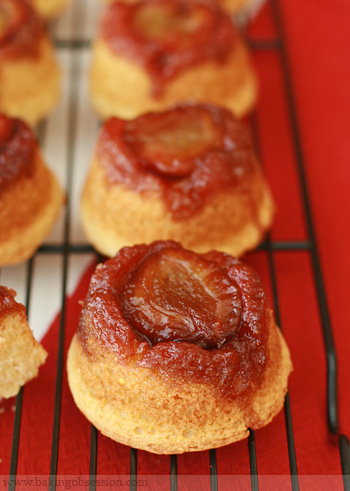 These are very Italian cupcakes. The list of the ingredients speaks for this well. There are fresh ricotta cheese and cornmeal, ground pine nuts and Italian prune-plums. The upside-down idea is not an exclusive American invention either. Italians have been flipping their cakes for a long time (crostata invertina (for example, with rhubarb and anise) is a wonderful and well known Italian treat).
The cupcakes are incredibly tender, almost melt-in-your-mouth. Ricotta and ground pine nuts contribute to their richness and added cornmeal adds a light crunch. The cupcakes are not too sweet with just a hint of honey, and pleasant tartness from fresh Italian plums. I blogged before about my forever love to everything upside-down. I love the moistness and gooey caramel topping, as well as the using of fresh fruit. In this recipe I substitute commonly used light brown sugar for more flavorful Muscovado. It does improve already nice taste. The cupcakes are terrific warm from the oven, served with a generous dollop of mascarpone cheese. But even when completely cooled they are very, very good.
Since this month Sugar High Friday theme is "Cupcakes" I'm submitting this recipe as my entry for this event. Make sure to check Fanny's blog who is this month SHF host. She's already posted her own cupcake recipes which are very original and absolutely delicious.
I'm also submitting it to La Cucina Italiana event.
Makes 12 cupcakes
Ingredients:
4 tbsp unsalted butter melted + about 1 ½ tbsp melted butter for brushing molds

½ cup lightly packed Muscovado sugar

6 Italian prune-plums, ripe but firm, medium size; cut vertically in half, stones removed
1 ¼

cups all-purpose flour

½ cup finely ground cornmeal

¼ cup finely ground lightly toasted pine nuts

1 tsp baking powder

½ tsp baking soda

½ tsp kosher salt

½ cup granulated sugar

Zest of 1 large lemon

¼ cup honey

1 stick (8 tbsp) unsalted butter, at room temperature

1 cup whole-milk ricotta cheese, put through a sieve, at room temperature

2 large eggs, at room temperature

1 tbsp fresh lemon juice

1 tsp pure vanilla extract

1/2 tsp pure lemon extract
Mascarpone cheese for serving
Preparation:
Center an oven rack and preheat the oven to 350F. Lightly butter 12 regular size muffin molds. If your muffin pan is not a non-stick one or if you've had problems taking muffins out of the molds before, cut 12 small circles from parchment paper and fit into the bottom of each mold.
Spoon 1 tsp of melted butter into each mold. Then top with 2 tsp of lightly packed Muscovado sugar. Put the half of the plum, cut side down, on top of the sugar. Set aside.
In a medium bowl whisk together the flour, cornmeal, ground nuts, baking powder, baking soda, and salt to combine. Set aside.
In a large bowl combine the sugar and lemon zest together, rub with your fingertips to release the lemon oil. Add the stick of butter and beat with electric beaters on high speed until light and fluffy. Add the honey and beat for a minute to blend well. Beat in the ricotta cheese. Add the eggs, one at a time, beating well after each addition. Beat in the lemon juice, and extracts. With the mixer on low speed add the dry ingredients and beat just until combined. Finish mixing with a rubber spatula to avoid an overbeating.
Divide the butter between the muffin molds. The batter should be just a little below the rim of the molds. Place the muffin pan onto a baking sheet and slide into the preheated oven. Bake for about 23-25 minutes, until light golden brown and a cake tester comes out clean. Let cool on a cooling rack for no more than 5 minutes. Cover with another rack and flip the muffin pan over. Carefully lift the pan. Cool the cupcakes slightly and serve warm with the mascarpone cheese.