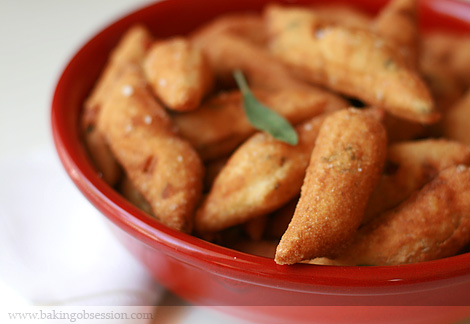 I was feeling lazy today. It happens sometimes. To tell you the truth it strikes me far more often than I'd like. So, instead of cooking dinner I fried a big basket of bread sticks (they can be called that :) studded with Soppressata and flavored with sage. And I made a big bowl of the crisp-fresh arugula salad to go with these fries. And wine, of course… There were no complaints.
The recipe is an adaptation of Carol Fields's recipe from her wonderful book "Italy in small bites". Truly, I don't know who writes better about Italian food and traditions than her. The book is pure enjoyment. As well as the bread sticks :) You can add small cubes of pancetta or ribbons of prosciutto to the dough. I went with Soppressata since that what I had in the fridge at that moment. Use different kind of herb as well, if you wish.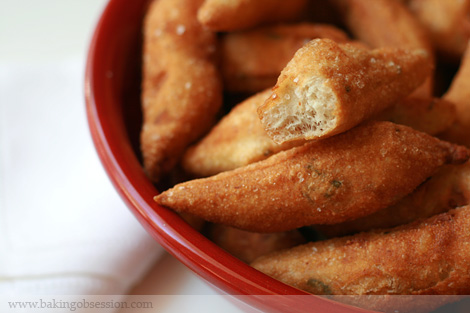 Makes a lot (I forgot to count. Honestly, I just forgot how many I ate while I was frying them, so in the end the counting task looked like solving an equation with two unknowns.)
Ingredients:
1 ½ cups warm water (about 105F)
2 tsp active dry yeast
3 ¼ cups all purpose flour (450g)
¾ cup whole wheat flour (100g)
1 ½ tsp sea salt
100 g Soppressata, finely chopped
¼ cup finely chopped sage
Canola oil for frying (about 3 cups)
Good quality sea salt for sprinkling (I used fleur de sel)
Preparation:
Combine the flour and salt in a bowl, set aside.
In a bowl of a stand mixer combine the water and yeast, stir. Let stand for 5 to 10 minutes until creamy. Add about 2 cups of the flour mixture and stir with a wooden spoon until combined. Gradually add the rest of the flour, stir until the dough comes together. Place the bowl onto the stand mixer base and knead with the dough hook for 4 minutes at medium speed, until the dough is soft, velvety, and slightly sticky.
Place the dough in a lightly oiled bowl, cover tightly with oiled plastic wrap, and let rise until doubled, 1 ¼ to 1 ½ hours.
Punch the dough down. Transfer the dough onto a lightly floured surface. Cover with a big bowl and let rest for 20 to 30 minutes.
Before you start rolling and shaping the dough, pour the oil into a sauté pan and start to heat.
On a lightly floured surface, flatten the dough, sprinkle the sage and Soppressata over the top, turn in all the edges, and roll up the dough. Pat it flat and divide into two portions. Roll each portion out to a ¼-inch thickness, then cut into strips the size of a finger or into 2-inch diamonds.
Check the oil temperature. It should reach 375F. Slide the strips into the oil without overcrowding the pan. As they puff up and become golden, turn them over. Once they are golden on both sides, remove them with a slotted spoon to a rack lined with paper towels to absorb the excess oil. Sprinkle with sea salt. Eat immediately or at room temperature.