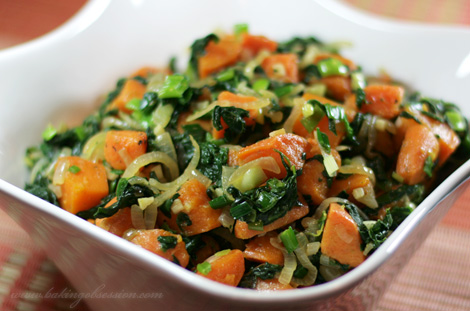 This is a result of my experiments in attempt to invent a new filling for a yeast dough pie. The final product happened to be so good that I decided it's worth a life on its own. It will be terrific as a side dish with a roasted bird.
Makes 4 to 6 side dish servings
Ingredients:
About 2 lb yams, peeled, cut into 1-inch cubes (you should get about 4 cups)
Extra virgin olive oil
Salt and freshly ground black pepper
1 tbsp butter
1 tbsp olive oil
2 medium onions, halved lengthwise and thinly sliced
3 garlic cloves, finely diced
10 oz frozen spinach, defrosted and squeezed dry
1 bunch of scallions, chopped (about 1 ½ cups)
Pinch of nutmeg
Salt and freshly ground black pepper
Preparation:
Preheat the oven to 400 F. Toss the yams with some olive oil, salt and pepper in a roasting pan.  Roast just until tender, about 30 minutes turning them after 20 minute.
Meanwhile preheat a sauté pan over medium-high heat. Melt the butter and olive oil, add the sliced white onions and sauté until light golden. Add the garlic, sauté for 1 minute. Then add the spinach, scallions and nutmeg. Sauté stirring for one more minute until the scallions start to wilt. Take the pan off the heat. Add salt and pepper according to your taste. Add the roasted yams. Serve.