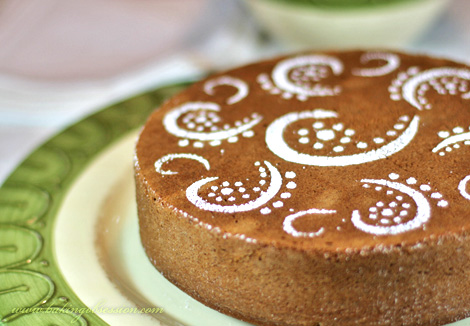 All my favorites spices are here. I was sure I would not be disappointed in the end result. The cake turned to be moist, buttery, very fragrant. This is a lovely treat especially during such dank weather outside.
The recipe is from Carol Bloom's "The Essential Baker
".
Makes one 8-inch round cake, about 12 servings
Ingredients:
6 chai tea bags
½ cup boiling water
4 oz (8 tbsp, 1 stick) unsalted butter, softened
½

cup granulated sugar, divided
½ cup firmly packed light brown sugar
¼ cup unflavored vegetable oil
2 ½ cups all-purpose flour
2 tsp ground cinnamon
1 tsp baking soda
1 tsp ground ginger
1 tsp ground cardamom
1 tsp ground cloves
½ tsp freshly grated nutmeg
¼ tsp salt
1 cup buttermilk
2 large egg whites, at room temperature
½ tsp cream of tartar
Confectioners' sugar for garnish
Preparation:
Center a rack in the oven and preheat it to 350 F.
Butter the inside of the cake pan, dust with flour. Place a circle of parchment paper into the bottom of the pan.
Place the tea bags in a medium bowl. Pour the boiling water over the tea bags and leave to steep for 5 minutes.
Remove the tea bags, squeezing them to release as much liquid as possible. Cool the tea in the refrigerator for 30 minutes.
Put the butter in the large bowl. Using electric beaters beat the butter until fluffy, about 2 minutes. Gradually add ¼ cup granulated sugar and all brown sugar, cream together well. Add the oil and the cooled tea to the butter mixture and blend thoroughly. Scrape occasionally the sides of the bowl.
Sift together the flour, spices, baking soda, and salt.
Alternately add the dry ingredients with the buttermilk to the butter mixture in 4 stages, starting and ending with dry ingredients.
Place the egg whites in the grease-free bowl of an electric mixer. Whip the egg whites on medium speed until frothy. Add the cream of tartar and whip until soft peaks form. Gradually, working on medium-high speed add the rest ¼ cup sugar, beating well after each addition. Whip until the whites hold glossy and firm, but not stiff, peaks.
Gently fold the whipped whites into the batter in 3 to 4 stages.
Transfer the cake batter to the prepared pan. Using a rubber spatula even the top. Bake for 1hr 5 to 1hr 15 minutes, until a cake tester inserted in the center comes out clean. Remove the cake from the oven. Cool on a rack in the pan for 15 minutes, unmold the cake and cool completely on the rack. Lightly dust the top of the cake with confectioners' sugar before serving.